International Forum for Lima Model Train Enthusiasts » Lima H0 » Start Set » Start Sets 1990 - 1999
Seite 1 von 2
#1
Start Sets 1990 - 1999
von
martin67
21.12.2014 08:51
Startset 20 4300X01 Greek Railways

Rare Greek set with V80 in OSE-CH (Greek Railways) colours.




Martin
#2
1992 - 104301 Apfelpfeil freight (?)
von
kokomo
22.05.2015 19:18
Browsing over the web I found this set, appeared in the 1992 catalogue, comprising several freight wagons. I've found an oddity here, Apfelpfeil wasn't a travel company (such as Scharnow Reise for instance) which had in the late '70s bought several former UIC-X TEE coaches? I didn't know it had its own "freight" division!!! Take a look here!!!



#3
RE: 1992 - 104301 Apfelpfeil freight (?)
von
martin67
22.05.2015 21:45
Due to the very strict copyrights in Germany, where this forum is based, please do not use pictures from "somewhere on the web".

This set is from 1992 and to my knowledge the only set with the Apfelpfeil refrigerator. For sure, Apflepfeil had no freight cars, but Lima appraently liked it and in the same year they had a set with a 4-wheeler V80 in yellow and orange Apfelpfeil livery, too, with two shorty coaches as seen in the Greek set above.

Martin
#4
RE: 1992 - 104301 Apfelpfeil freight (?)
von
kokomo
23.05.2015 14:36
Hi Martin... Sorry about that expression. It's a photo obtained fron an unknown source after googleing it.

I do have some other sets from this prolific period of LIMA to share and find out. Thanks

By the way, that Greek set is the first time I've seen LIMA making one. Do you know if LIMA ever produced another Greek one?
#5
RE: 1992 - 104301 Apfelpfeil freight (?)
von
martin67
23.05.2015 15:03
Hi!

I came across this Greek set on eBay from Greek seller. This guy apparently was aware about the rarity, so the set was really expensive, despite the cheapy contents. I needed to have it, as I also have never seen greek models from Lima except the Eurosprinter Electric in OSE-CH colours. I actually never saw this set or a similar Greek set (maybe with freight train) again until now. But, since I own this set now, I can tell that it's 100% original (no fake or repaint).

Regarding the copyright, we at this forum can only allow pictures from own source, open source (most pictures at Wikipedia) or pictures used with permission of the owner. Violations to these rules can be very expensive for me....

Martin
#6
TGV Starter set
von
kokomo
29.05.2015 16:10
#7
RE: TGV Starter set
von
martin67
29.05.2015 20:53
This is a nice one! I actually never saw a six piece TGV in a starter pack. Since I never saw it before I can't help with the item number.

Martin
#8
RE: TGV Starter set
von
Tartaruga
31.05.2015 01:33
Hello

A splendid startset. i never see too a six pack Version. if I have correctly seen in the pictures, the locomotives are equipped
with full-fledged pantographs. For a TGV startset specially. the startset itself is from the 80s. i guess 1983. with the item
number i can't help too.

Christoph
#9
RE: TGV Starter set
von
kokomo
31.05.2015 04:15
#10
Treno & Plastico 107500T
von
martin67
23.07.2015 22:30
Here we have an extremely nice and rare set of the 1990's. It shows, how the Lima marketing guys gave lots of play value to starter sets without a lot of effort. Just take a big set box, print a track plan on the inside and add some landscape made of styrofoam.

"SUPER LIMA", stated on the box (and also something that we all believe in...
)




On the cover picture you see the set up.




The train is odd itself, too. A FS E444 electric that lacks all kind of lettering (especially unusual for 90's Lima) and 2 Grande Comforto IC coaches (UIC X-type with Fiat bogies) and a luggage van.




Some cars (Fiat 131 with no window inserts) are also included.

Due to the rather high play value, most of these and similar sets have been loved to death, so they rarely show up in internet auctions. Even though, if one can find one, it's a true collector's item and quite worth to be saved. Anybody knows the production date?

Martin
#11
RE: Treno & Plastico 107500T
von
Tartaruga
24.07.2015 16:55
Hallo Martin

Ein gutes Angebot erwischt? Die sind sonst nicht gerade günstig.

gruss Christoph
#12
RE: Treno & Plastico 107500T
von
martin67
24.07.2015 17:04
Hi Christoph,

ich würde sagen ja. Hab 67€ geboten, war genau mit dieser Summe Höchstbietender, aber noch lange vor Ende, naja, hat keiner mehr draufgeboten. Bei den 67€ war der Versand schon drin.

Schönen Gruß,

Martin
#13
RE: Treno & Plastico 107500T
von
Musseler
25.07.2015 08:11
Habe nicht drauf geboten. Habe mir schon gedacht, dass Du oder Christof da dran seid.
#14
RE: Treno & Plastico 107500T
von
martin67
25.07.2015 09:44
Eric, danke! Sehr nett von Dir (wobei Du es dann für 68€ bekommen hättest....)


Martin
#15
Lima - H0 - Startset 10 6500X29 "Cisalpino" [ENG] [GER]
von
Tartaruga
21.04.2019 13:50
Hello everybody
Hallo Zusammen

At Easter time a rather unknown starter set around 1998 in Switzerland on the retailer
"Migros" or on the hardware store "Jumbo" was offered. At that time came the ETR470 "Cisalpino"
in Switzerland for direct connections to Italy with a lot of media presence on the rails. There had to be
of course, a starter set will be offered. What is present in the media can also be sold well.

On the basis of a Lima ETR450 so a simple starter set in "Cisalpino" colors was offered.

Zu Ostern mal ein eher unbekanntes Startset das um 1998 in der Schweiz über den Detailhändler
"Migros" oder über den Baumarkt "Jumbo" angeboten wurde. Zu dieser Zeit kam der ETR470 "Cisalpino"
in der Schweiz für direkte Verbindungen nach Italien mit viel Medienpräsenz auf die Schienen. Da musste
natürlich auch ein Startset Angeboten werden. Was in den Medien Präsent ist, lässt sich auch gut verkaufen.

Auf Basis eines Lima ETR450 wurde so ein einfaches Startset in "Cisalpino" Farben angeboten.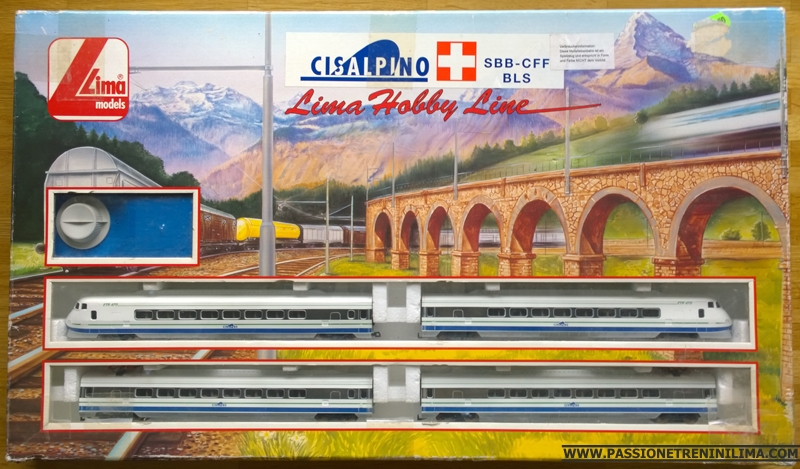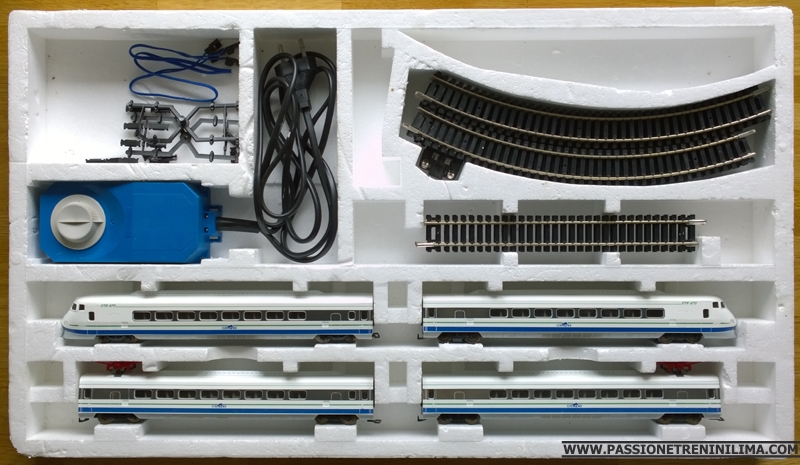 Christoph