International Forum for Lima Model Train Enthusiasts » Discussione generale - General discussions - Allgemeine Diskussionen » General Discussions - Discusione generale - Allgemeine Diskussionen » Suggestion: Let´s build a Forum Layout....
Seite 5 von 7
#61
RE: Lima Nord Module - Tracks
von
tsokasn
23.08.2019 23:57
Top!!!
As always!!!
Especially the rail painting!!!
#62
RE: Lima Nord Module - Tracks
von
Musseler
14.09.2019 16:55
My 2nd module is under construction now:


#63
RE: Lima Nord Module - Tracks
von
martin67
01.10.2019 16:15
May I bring a "guest train" to Kaltenberg to run it on your modular layout?

Martin
#64
RE: Lima Nord Module - Tracks
von
Musseler
02.10.2019 15:35
Of course! We´ll find a gap to let you in with your train(s)!
#65
RE: Lima Nord Module - Tracks
von
Musseler
05.10.2019 00:34
Catenary under construction:


#66
RE: Lima Nord Module - Tracks
von
tsokasn
05.10.2019 06:34
#67
RE: Lima Nord Module - Tracks
von
Musseler
31.10.2019 19:29
G'evening all,

My modules are almost finished. New pics coming next weekend from Kaltenberg.
CU
#68
RE: Lima Nord Module - Tracks
von
martin67
11.11.2019 11:33
Hey guys,

Kaltenberg is over now, what a lot of fun we had. My layout Valditaro suffered again from transport and got seriously damaged on the way back, so I think I will no longer use it for exhibitions (MVG in Munich in March will be the last show) and then leave it at home as my stationary layout. Last night I dreamed of building an own module to join the forum layout, although I have to sleep and dream some more to get the idea alive, finally.

First of all, I have to sort out the pics and post them in the exhibition thread.

Cheers,

Martin
#69
RE: Lima Nord Module - Tracks
von
Tartaruga
11.11.2019 13:01
Hello Martin

That's great news! We are looking forward to what a great idea you have.

Like now Kaltenberg is over I will publish the further building steps here in the forum and of course also my pictures from the exhibition.

It was great and the layout worked wonderfully.

Christoph
#70
RE: Lima Nord Module - Tracks
von
Musseler
11.11.2019 17:31
Many thanks to Christoph!
You worked really hard to get the curves done.
Although trees are missing ( Gell, Norbert?} the layout worked very well and our visitors were very pleased and interested in the matrial of the layout and the rolling stock.
And, of course, thanks to all friends for their helpful hands.
#71
RE: Lima Nord Module - Tracks
von
Musseler
12.11.2019 22:03
Servus,

a small video as a comprehension of our Forum-Layout:


#72
RE: Lima Nord Module - Tracks
von
Tartaruga
28.01.2020 08:11
Hi

From today on I will continuously publish more pictures of the construction progress of my modules in the forum.

Ab heute werde ich laufend noch weitere Bilder der Baufortschritte meiner Module im Forum veröffentlichen.


Status 01.09.2019:

The following two pictures show the taped station buildings shortly before the sandstone elements were painted.

Folgend zwei Bilder zu den abgeklebten Bahnhofsgebäuden kurz vor dem lackieren der Sandstein Elemente.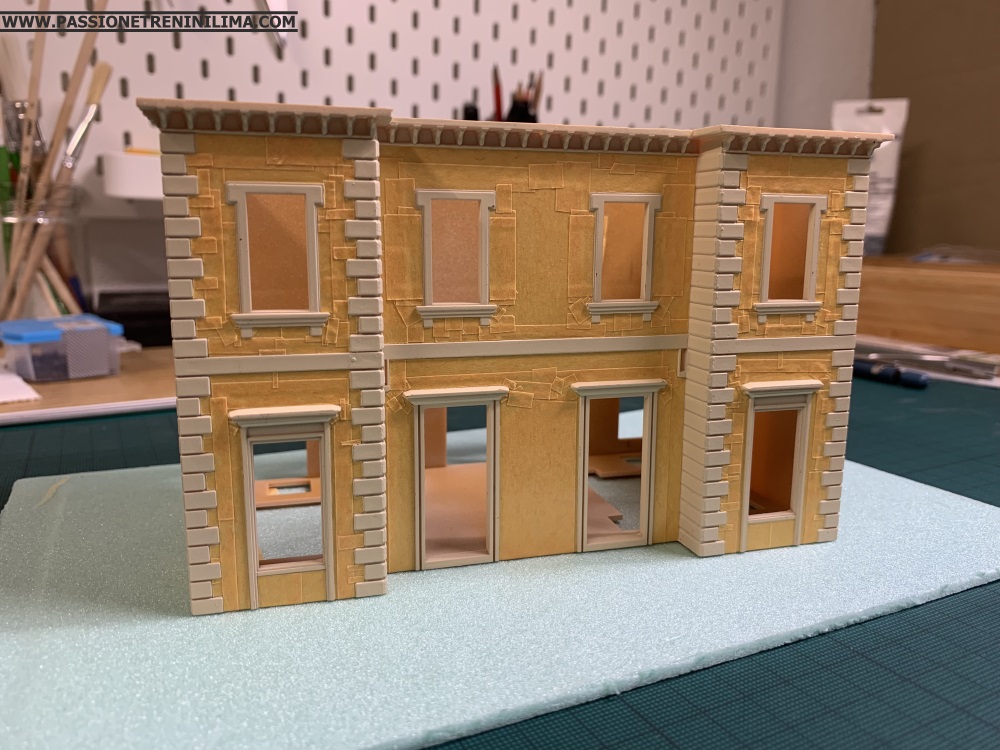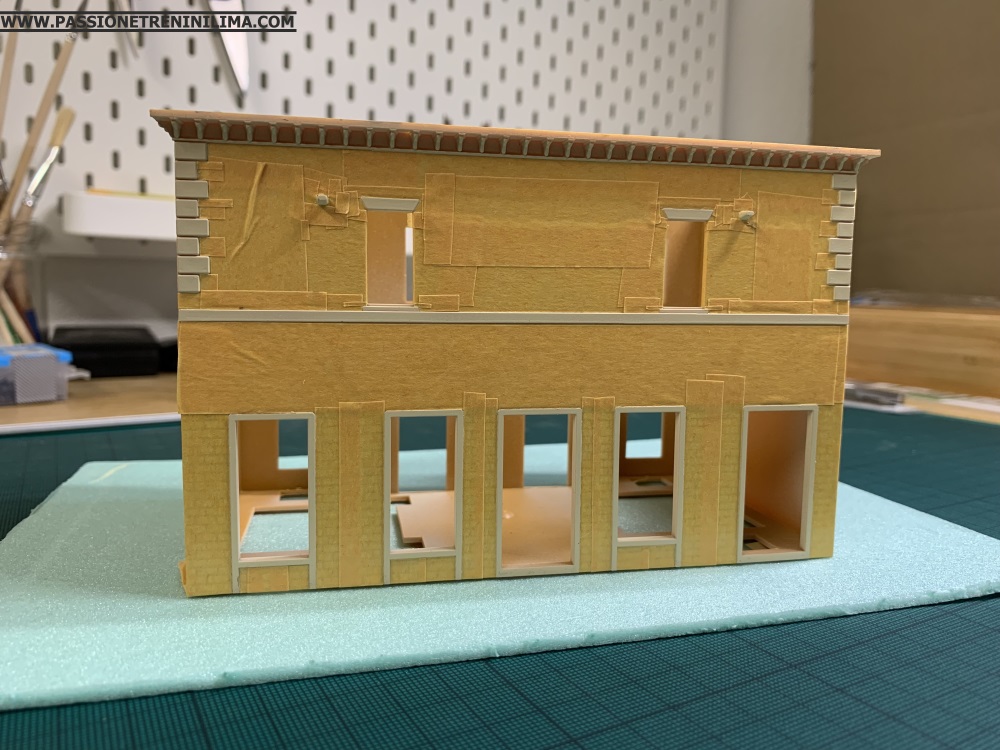 Late in the evening I removed all the tape with great curiosity and was able to see the station completely in a new color
for the first time. As you can see, the effort was worth it.

Spät Abends habe ich dann mit grosser neugier alle Kleber entfernt und konnte das erste mal den Bahnhof
komplett in neuer Farbe begutachten. Wie man sieht, hat sich der Aufwand gelohnt.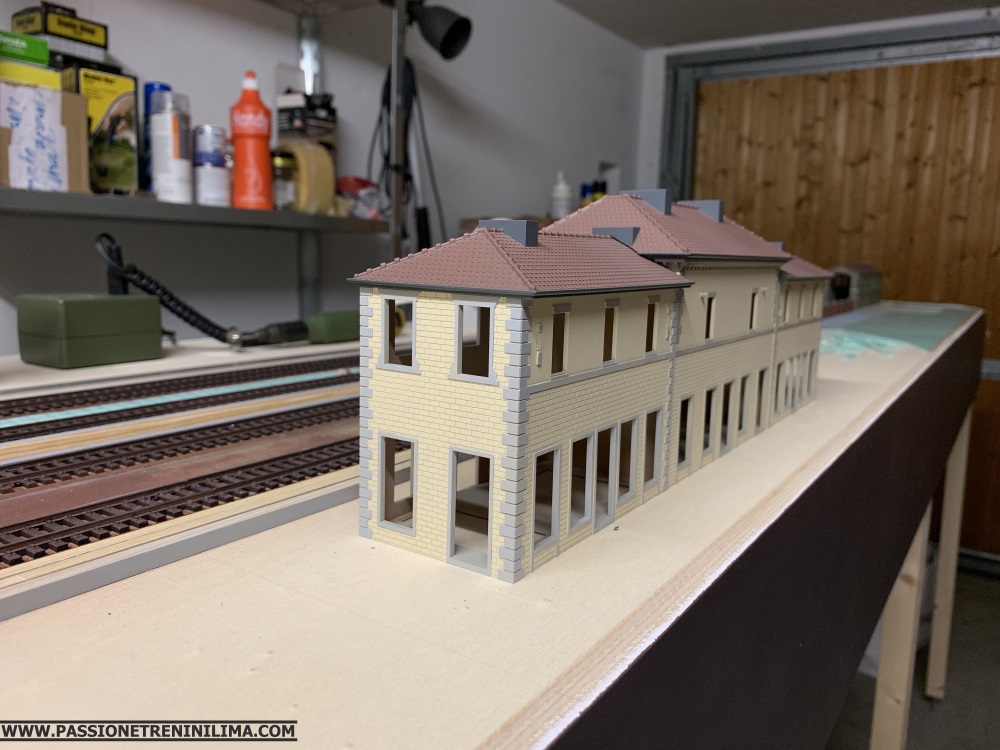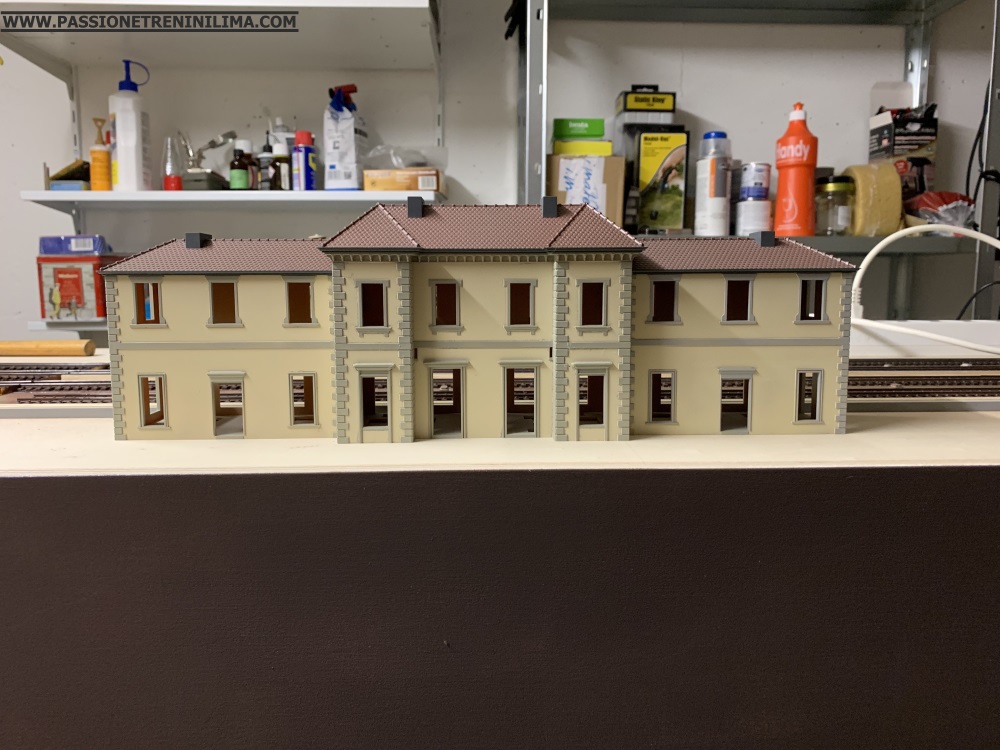 First sample of the future bar including a "Cimbali" coffee machine.

Erste Stellprobe der zukünftigen Bar inklusive einer "Cimbali" Kaffeemaschine.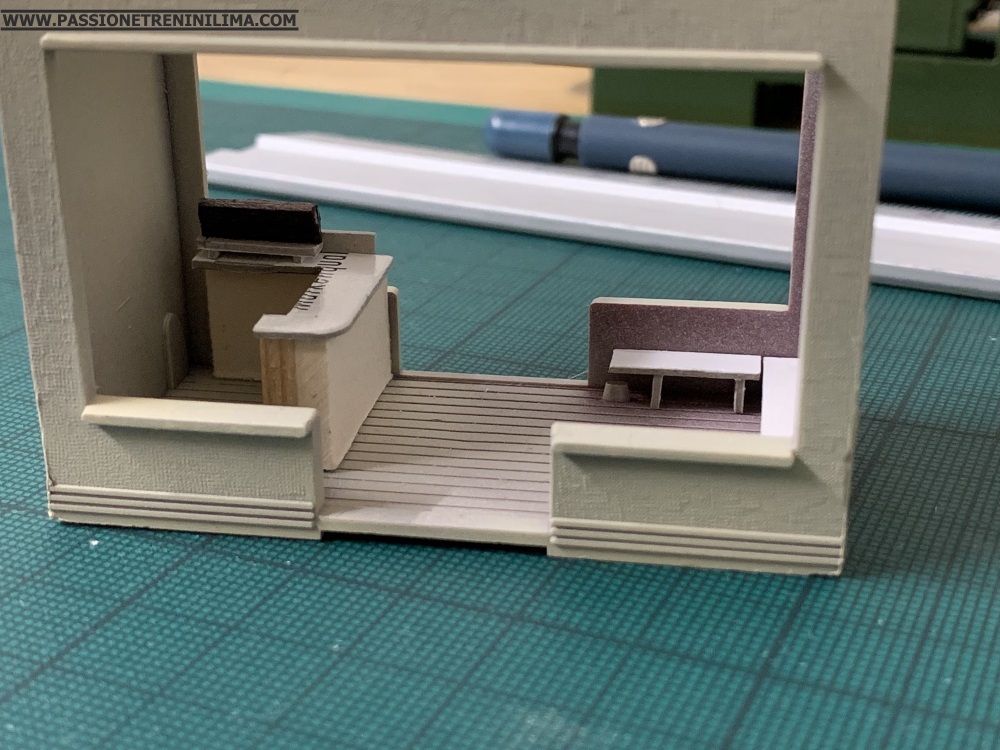 Status 03.09.2019:

After two days the bar had the final color.

Nach zwei Tage hatte die Bar die entgültige Farbe.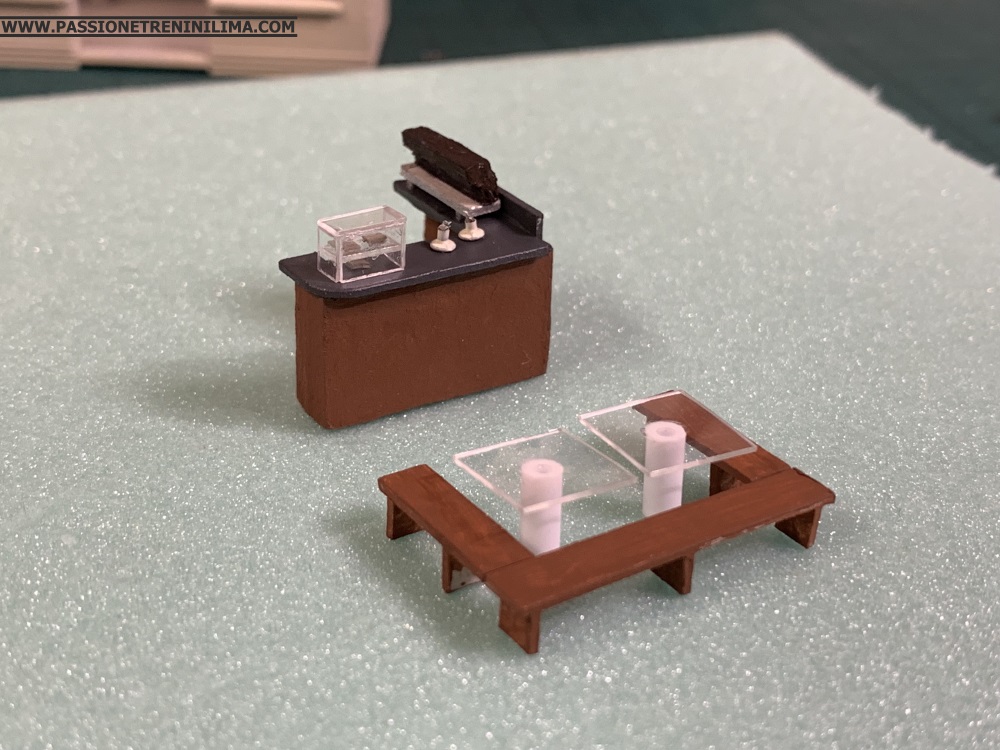 Status 08.09.2019:

Since it is not made only with color and it should not look too empty for the first exhibition, there was additional equipment.

Da es nur mit Farbe nicht gemacht ist und es für die erste Ausstellung nicht zu leer aussehen sollte, gab es noch zusätzliche
Ausstattung.





So that there is no wind in the bar, there was a provisional first glazing.

Damit es in der Bar nicht zieht, gab es eine provisorische Erstverglasung.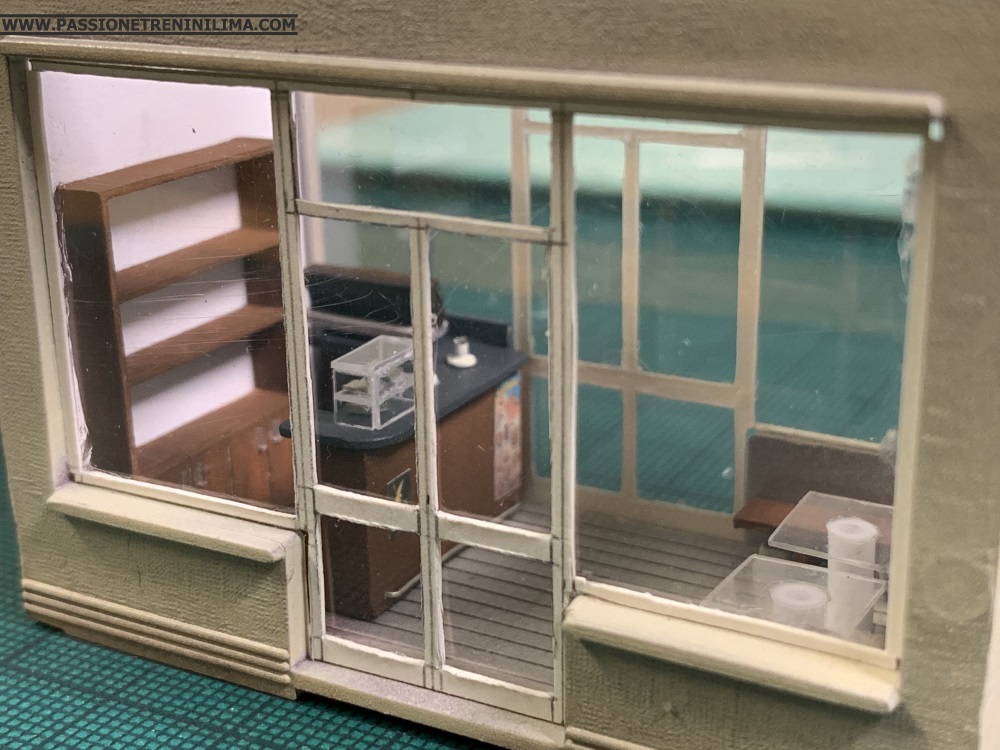 Status 09.09.2019: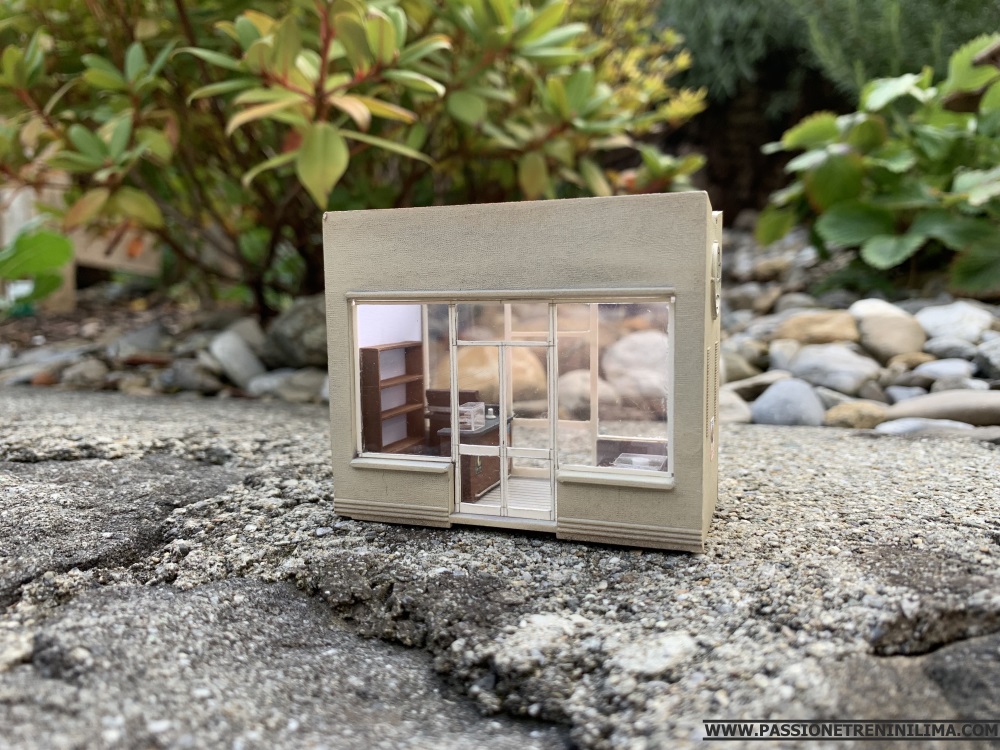 Status 20.09.2019:

Fresh from the printer, benches for the railroad platforms.

Frisch aus dem Drucker, Sitzbänke für die Bahnsteige.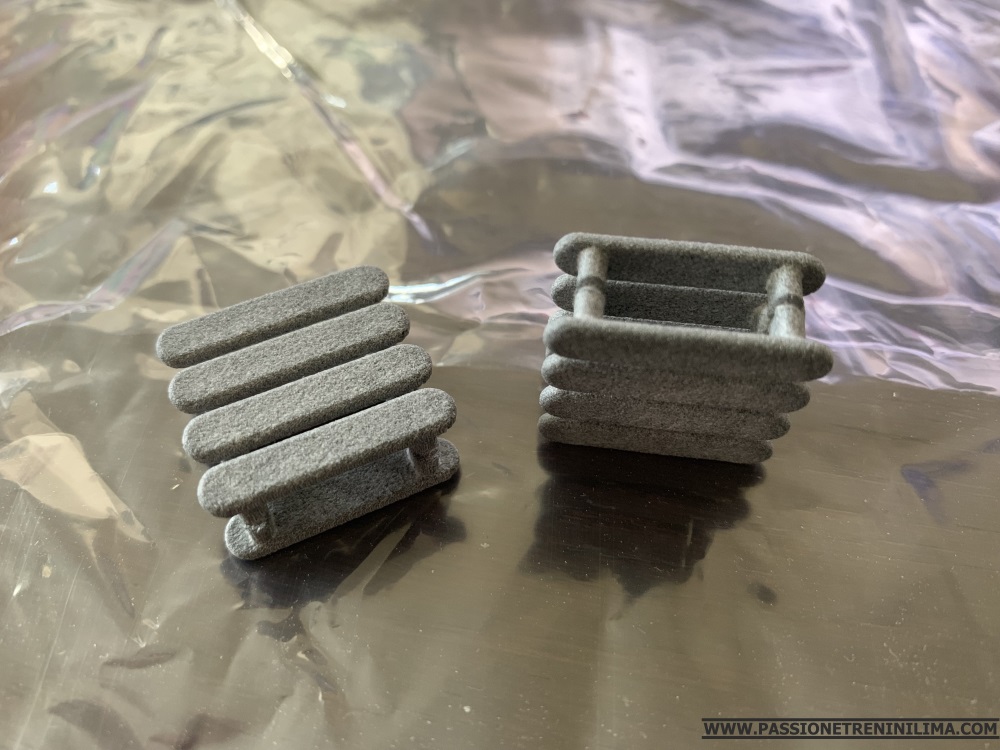 Status 21.09.2019:

Sketch for the track layout on the back of the module.

Skizze für die Geleisführung an der Modulrückseite.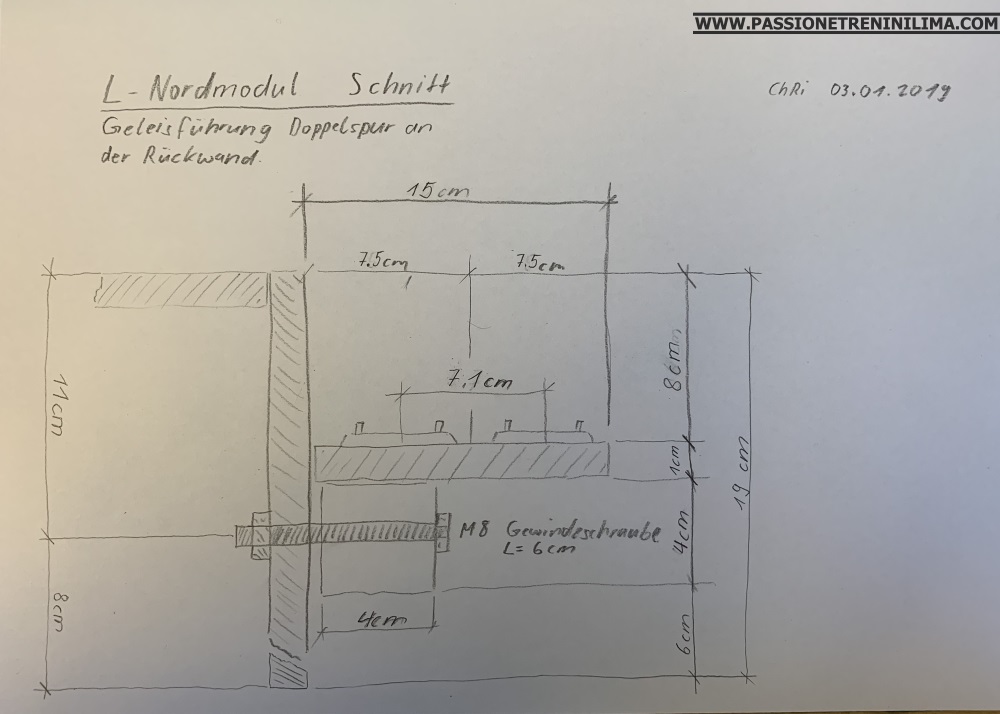 Status 03.10.2019:


Distances for the catenary masts at the module connections.

Abstände für die Oberleitungsmasten bei den Modulübergängen.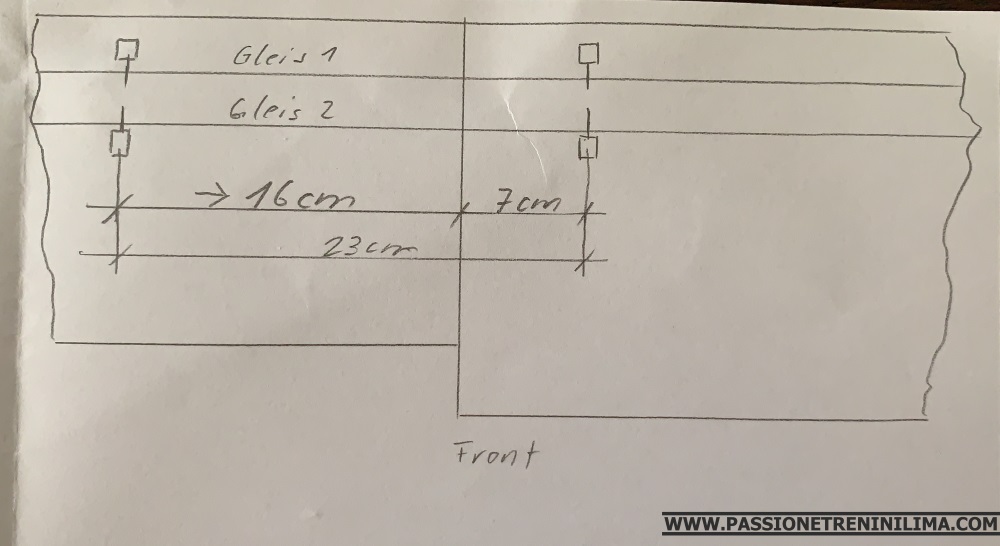 Distance catenary mast to track.

Abstand Oberleitungsmast zum Geleise.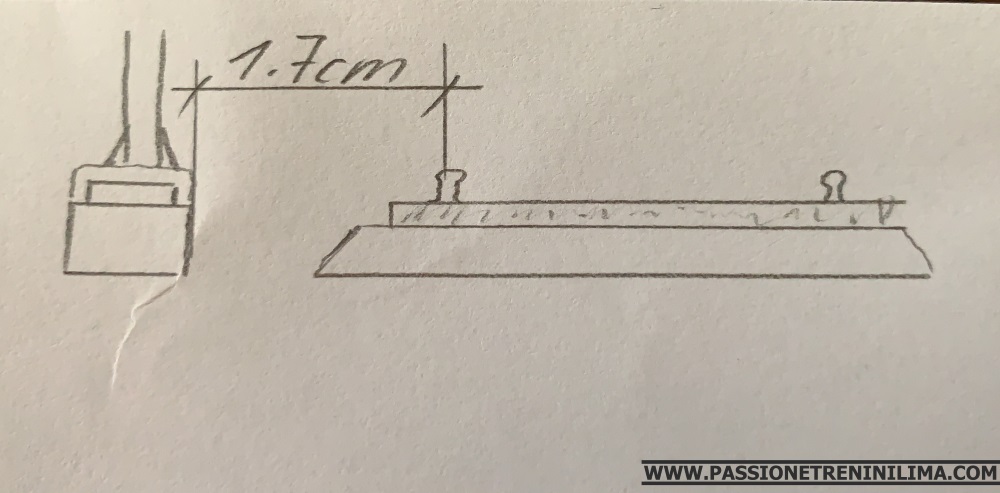 Catenary support mast Positioning test.

Oberleitungsmast Stellprobe.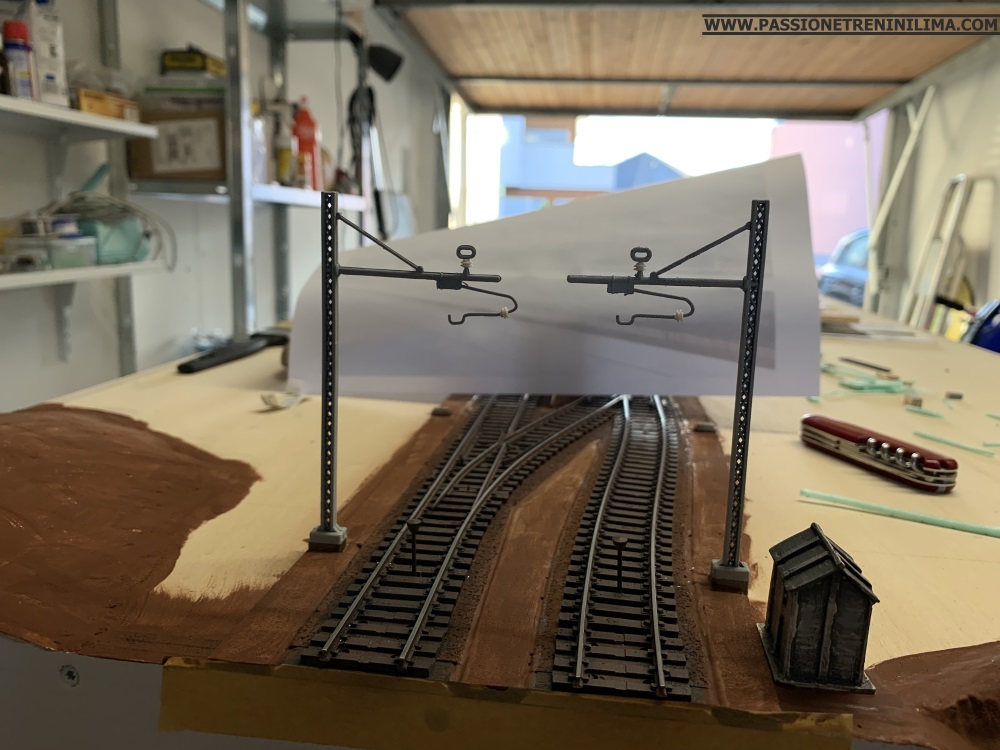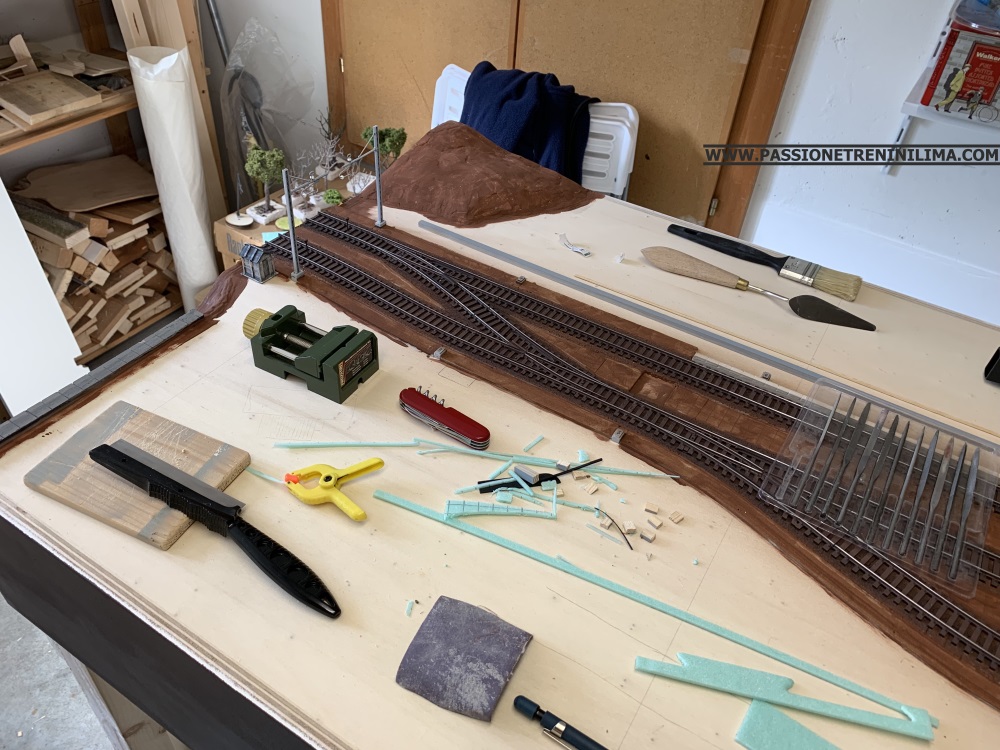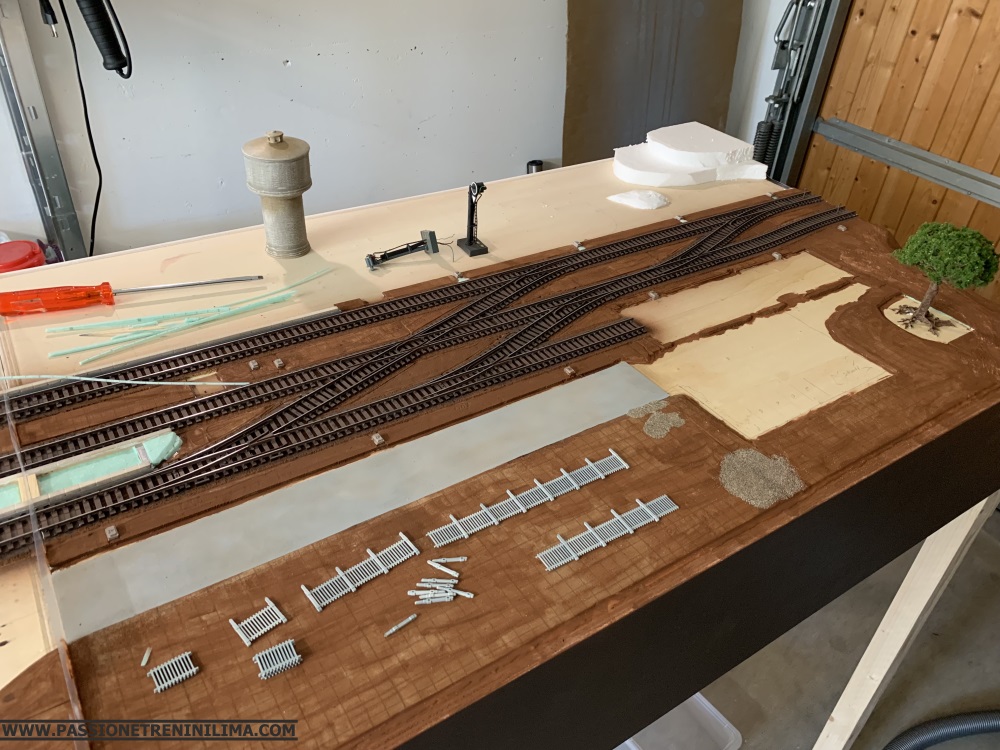 Basic structure of the middle platform. Borders consist of 4x3mm wooden strips and
lined with a layer of impact sound isolation.

Grundaufbau des mittleren Bahnsteiges. Einfassungen bestehen aus 4x3mm Holzleisten und
ausgekleidet mit einer Lage Trittschalldämmung.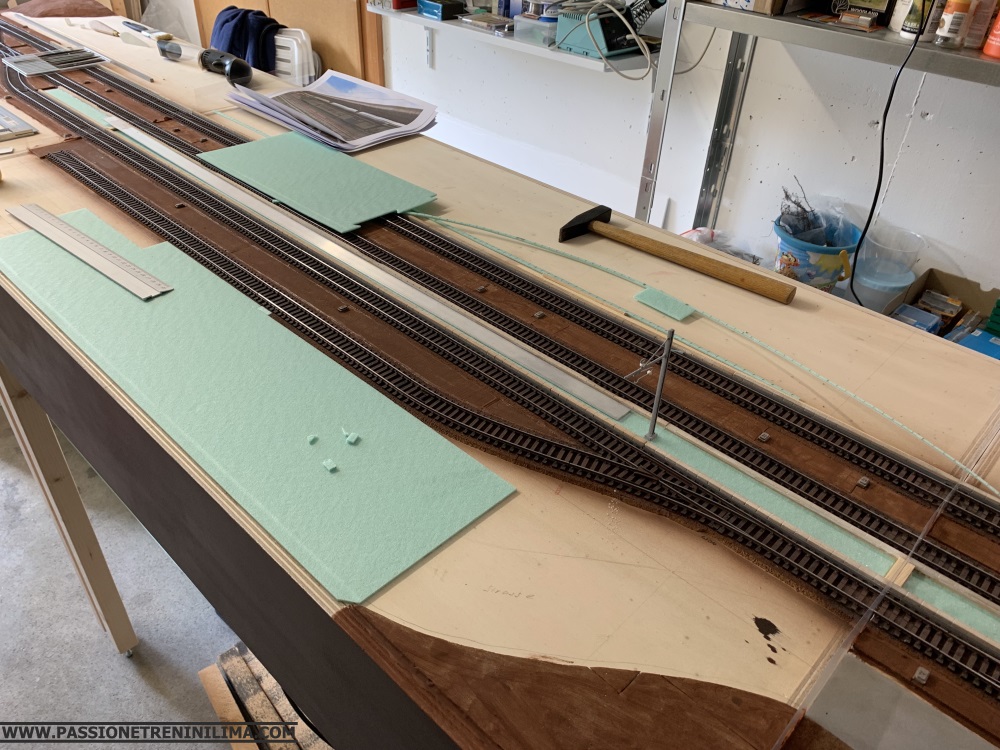 The tracks of the third module are completely ballasted. It went better than expected.

Die Geleise des dritten Moduls sind vollständig eingeschottert. Es ging besser als gedacht.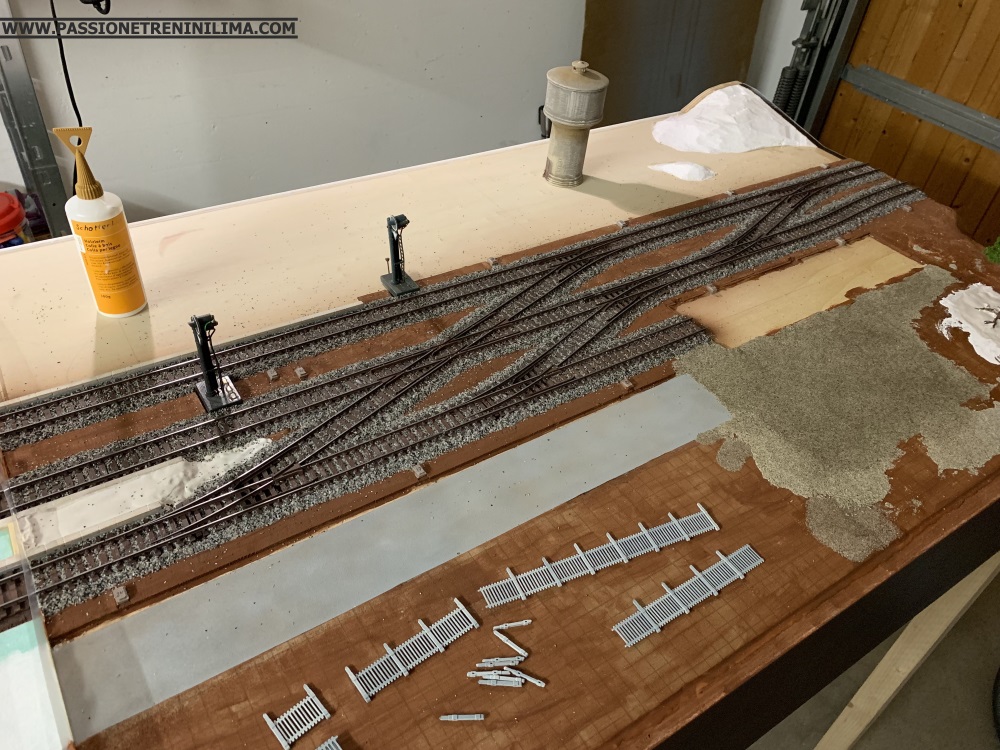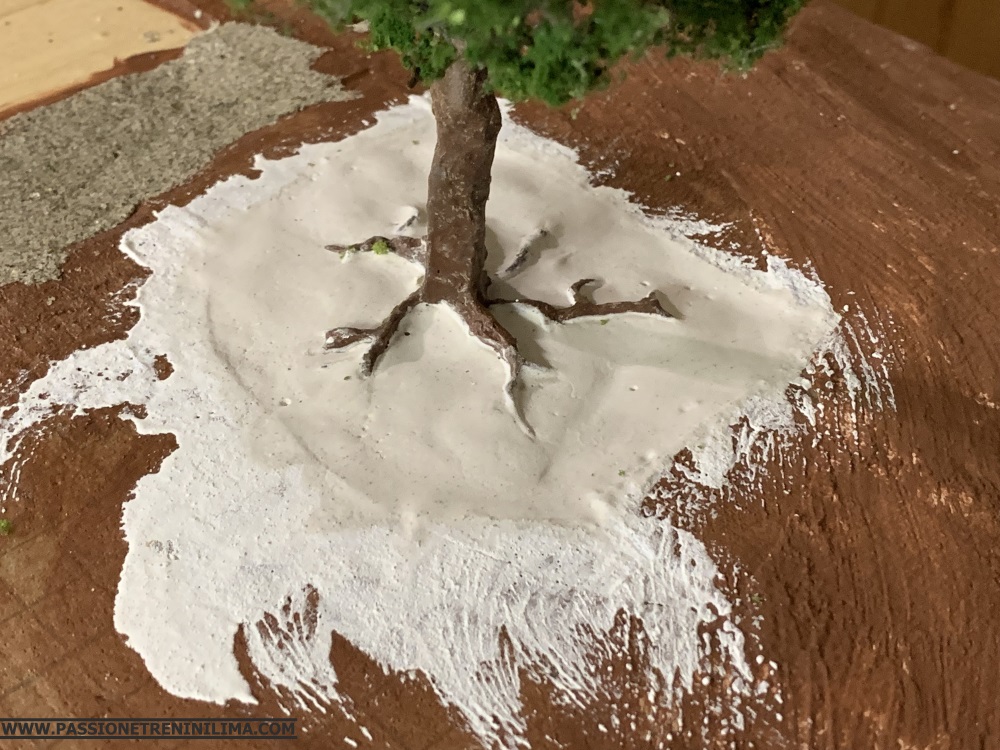 Next to the locomotive shed I have for the forecourt the first time my sand and glue mixture
tested. Not the expected result but useful.

Neben dem Lokomotivschuppen habe ich für den Vorplatz das erste mal meine Sand Leimmischung
getestet. Nicht das erwartete Resultat aber brauchbar.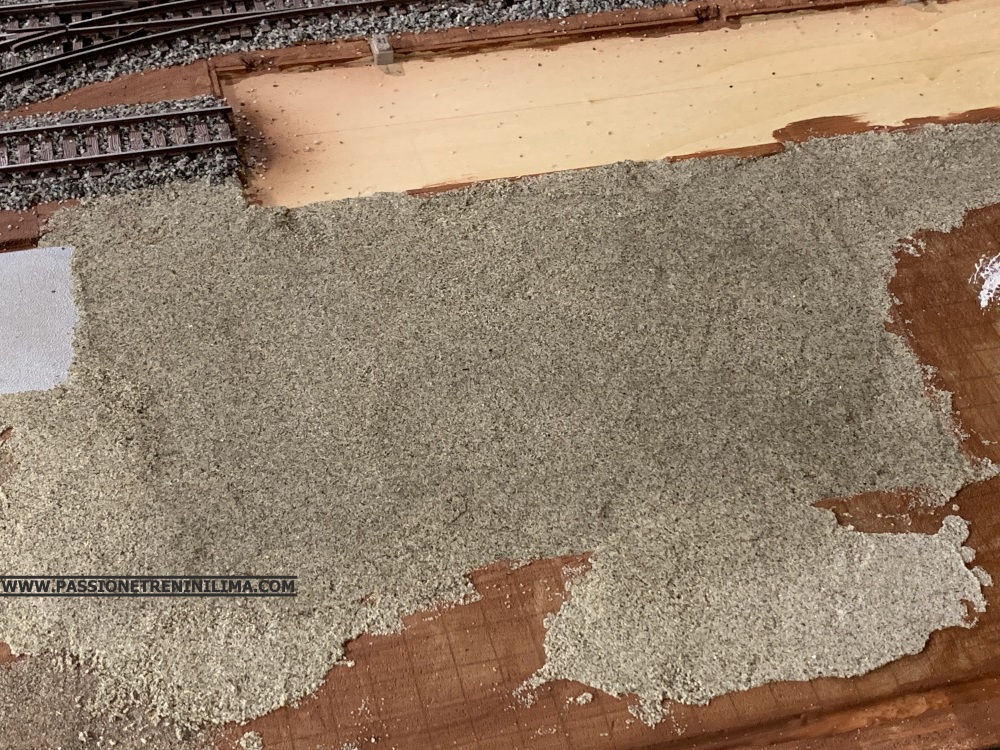 Status 04.10.2019: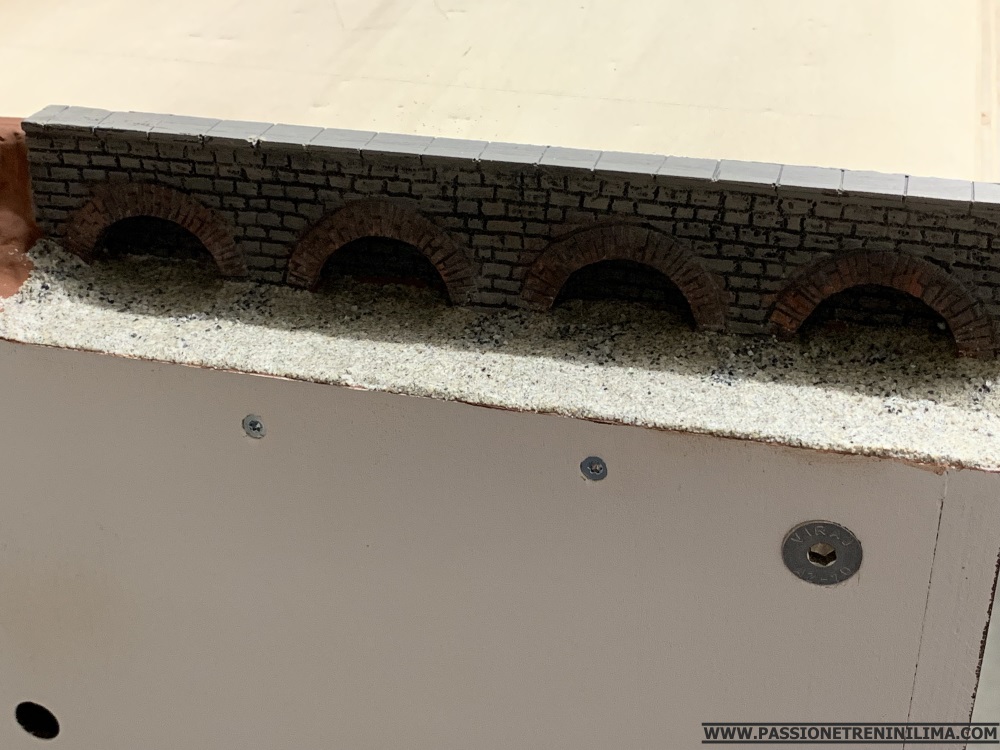 The first street layout in the second module takes forms.

Die erste Strassenführung beim zweiten Modul nimmt Formen an.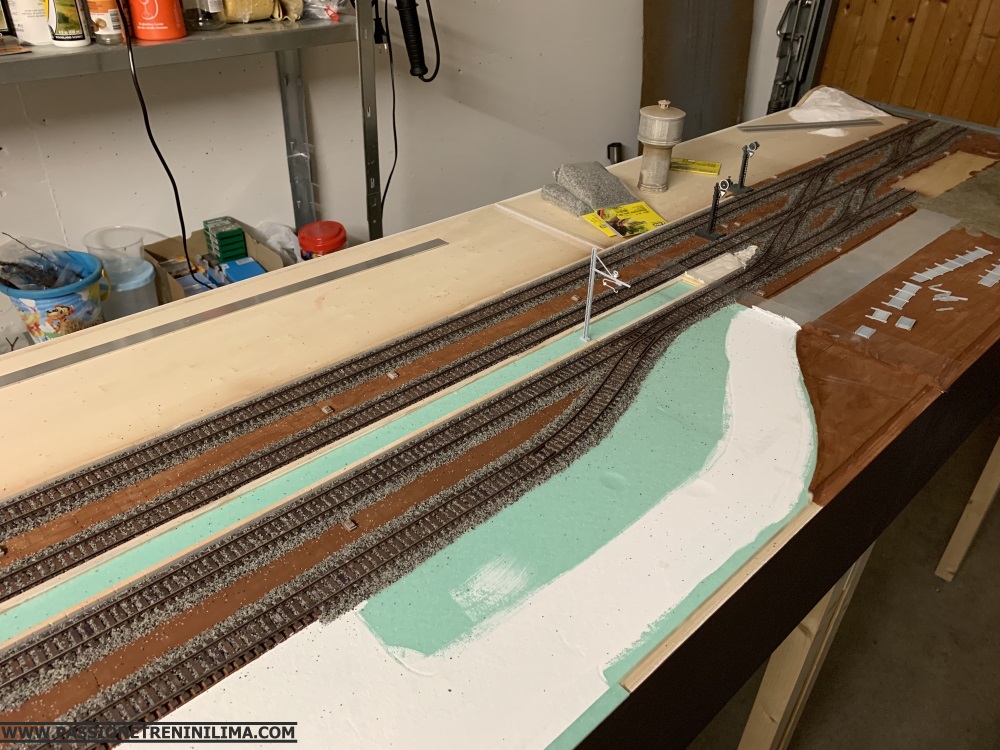 Preparation for casting the middle platform with model plaster.

Vorbereitung für das aussgiessen des mittleren Bahnsteiges mit Modellgips.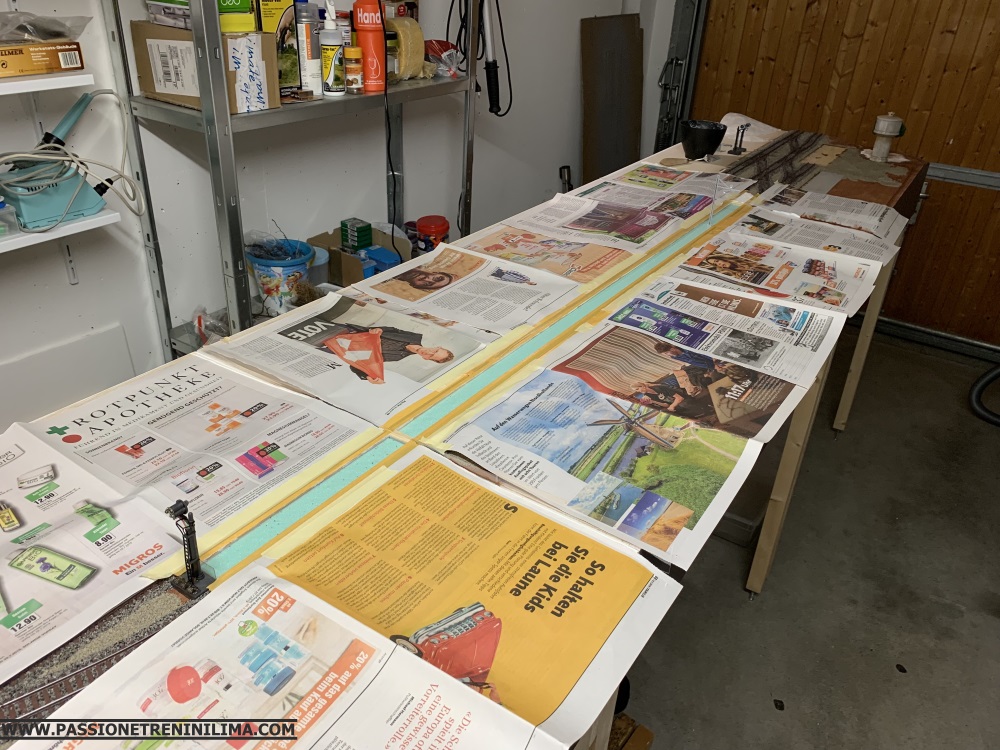 Also with the first module I could completely ballast the tracks.

Auch beim ersten Modul konnte ich die Geleise vollständig Schottern.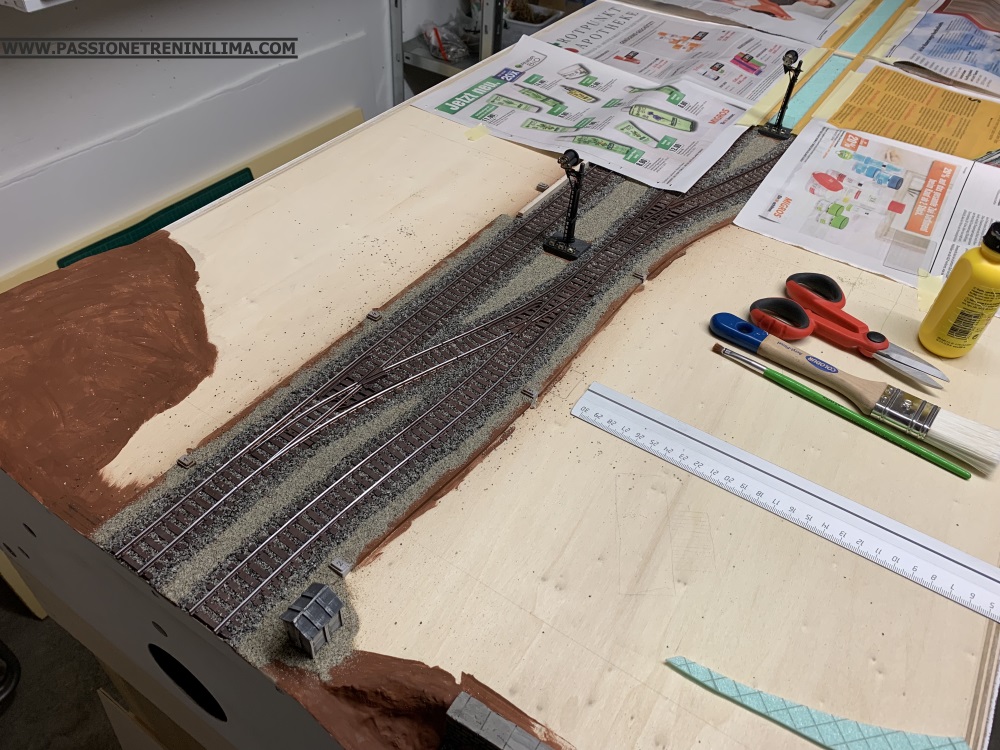 Status 06.10.2019:


The casting of the middle platform went very well, although the proportion of water-
model plaster plays an important role.

Das ausgiessen des mittleren Bahnsteiges ging sehr gut, wobei aber auch der Anteil Wasser-
Modellgips eine wichtige Rolle spielt.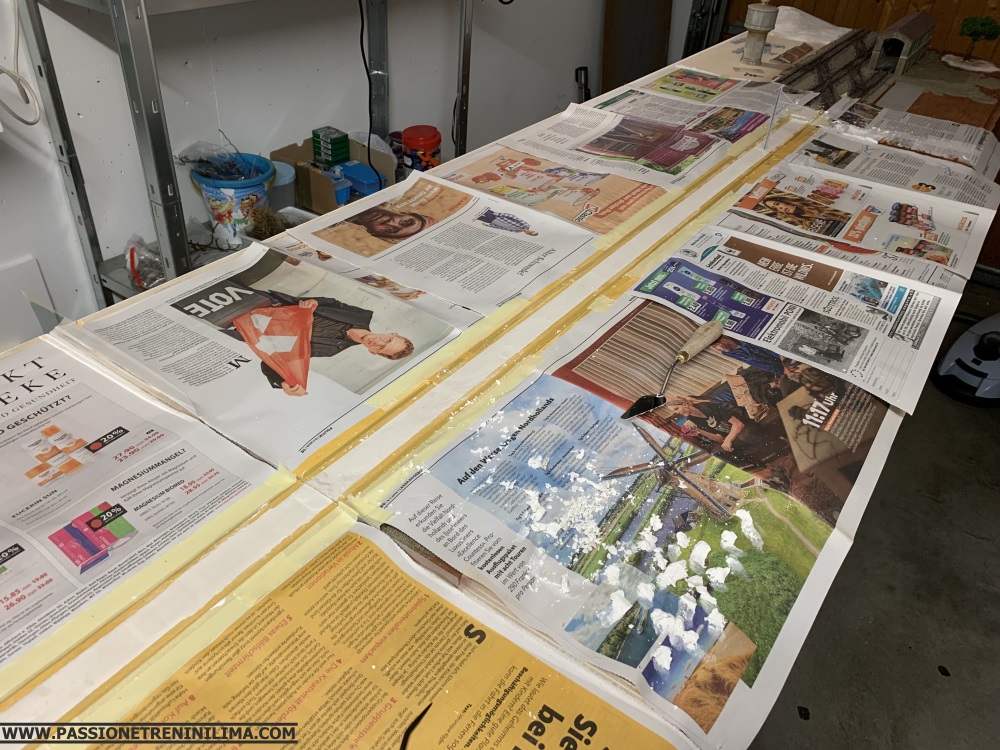 Test installation of the brick wall in front of the locomotive shed. Does that go well with the
platform that close to the switch?

Stellprobe der Backsteinmauer vor dem Lokomotivschuppen. Kommt das wohl gut mit dem
Bahnsteig der so nahe an der Weiche ist?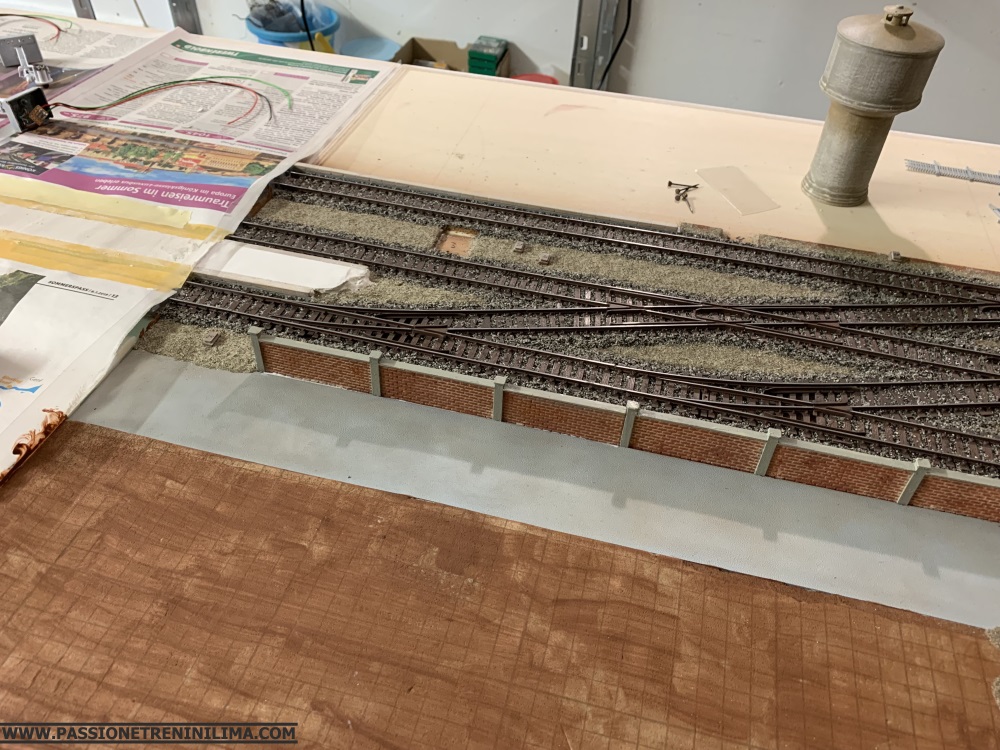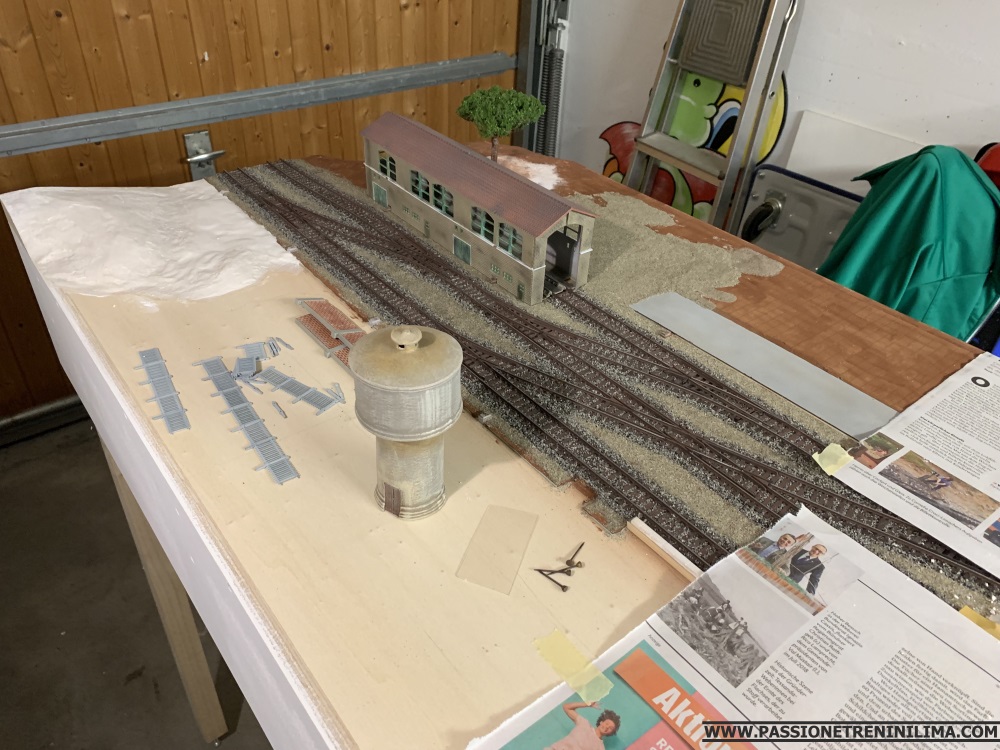 Preparation of the signals for painting by airbrush.

Vorbereitung der Signale für das Lackieren mittels Airbrush.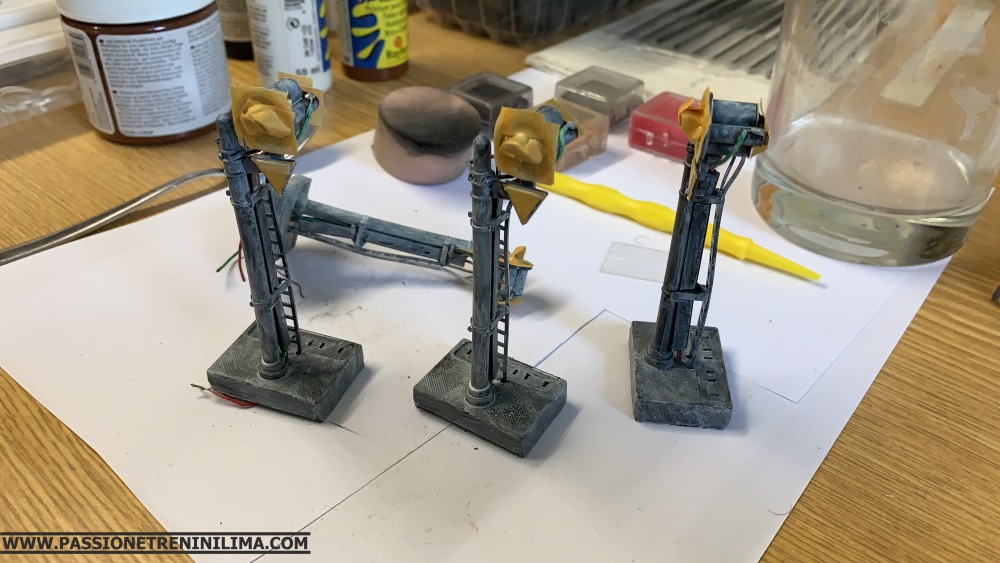 Looks already with the white primer not bad compared to the dark grey.

Sieht schon mit der weissen Grundierung nicht schlecht aus im vergleich zum Dunkelgrau.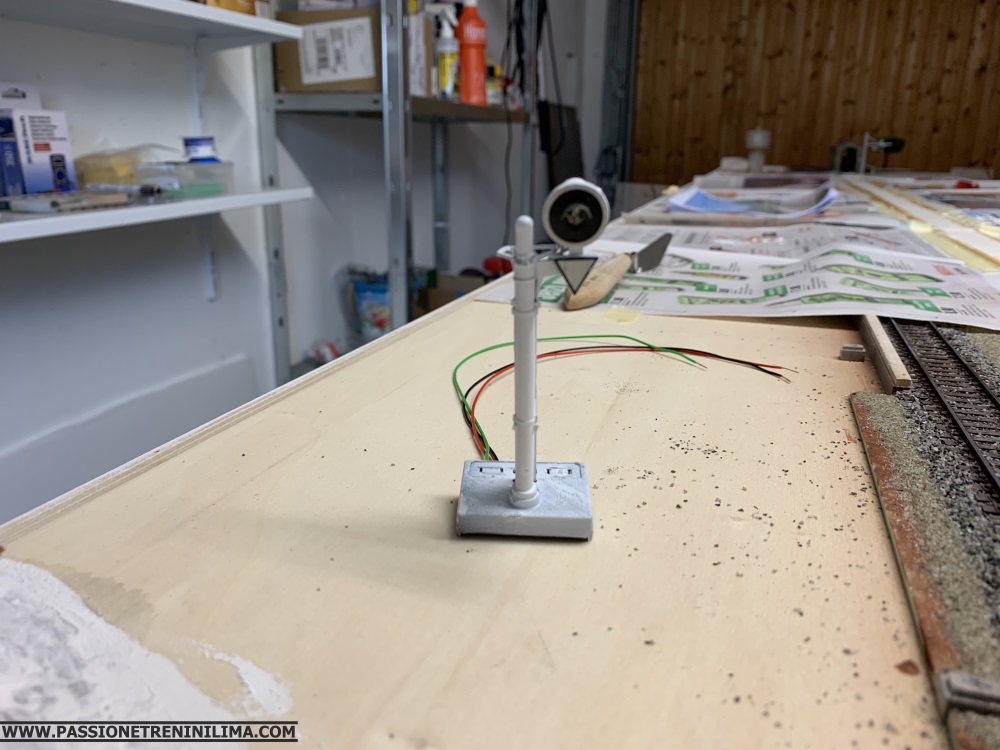 Test installation of the goods shed with the newly constructed carton substructure.

Stellprobe des Güterschuppens mit dem neu erstellten Unterbau aus Karton.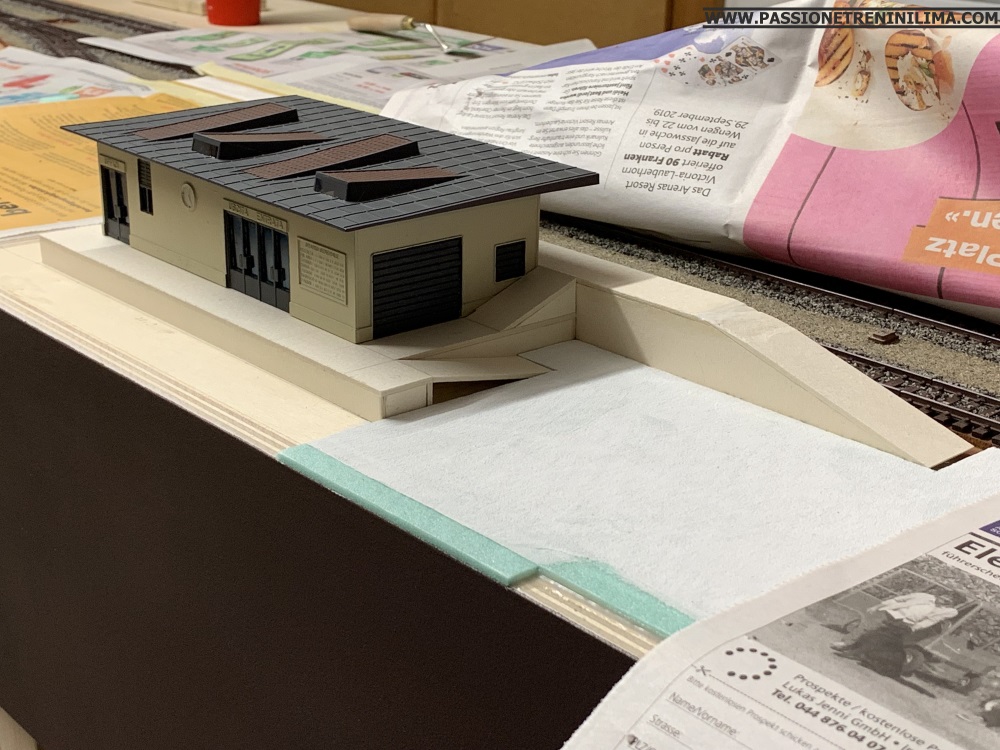 Status 11.10.2019:


Setting test of the signals. Behind it is already a part of the platform on the station side
apparent.

Stellprobe der Signale. Dahinter ist schon ein Teil des Bahnsteiges auf der Bahnhofsseite
ersichtlich.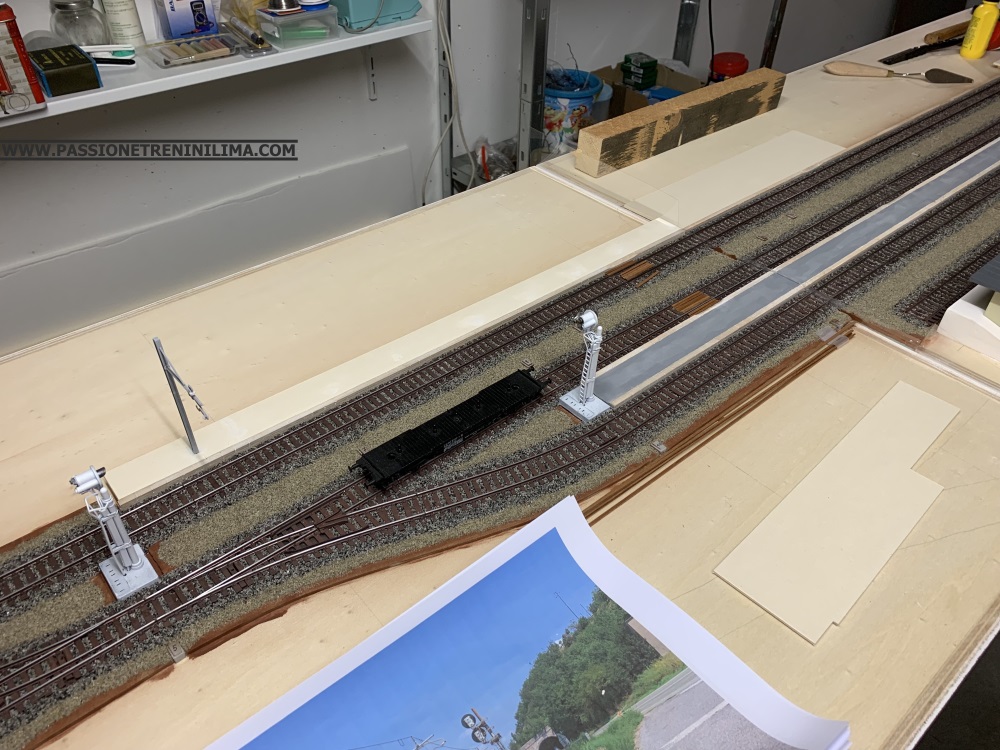 The middle platform got its first coat of paint which is still too dark.

Der mittlere Bahnsteig hat seinen ersten Anstrich bekommen der noch zu dunkel geraten ist.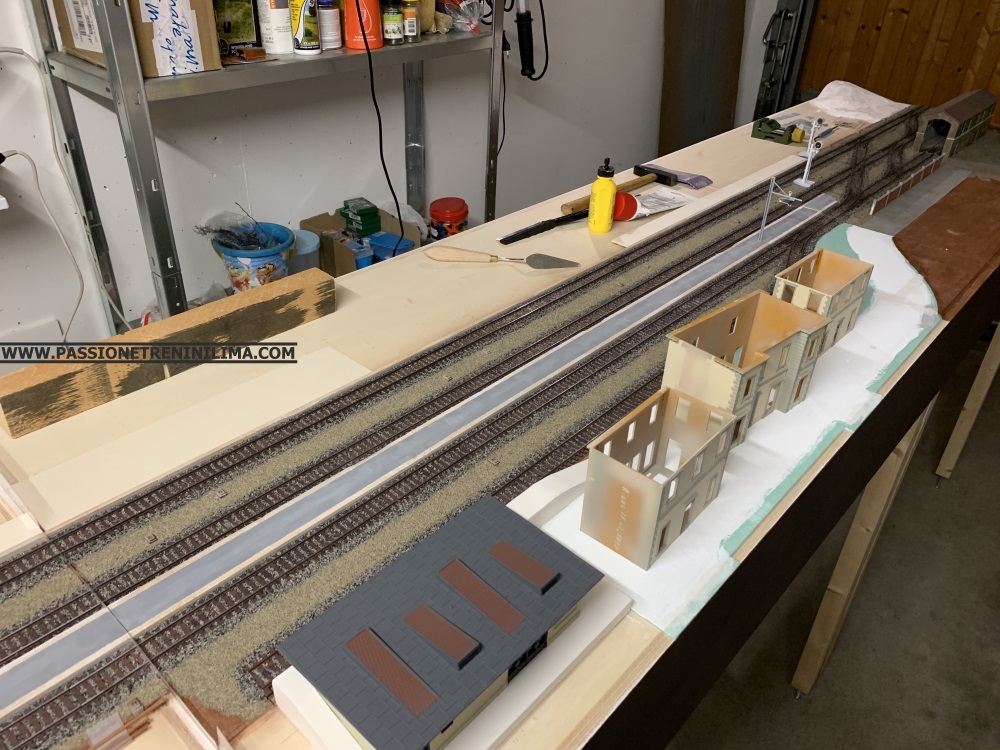 Status 12.10.2019:


First test of the station building with the attached bar.

Erste Stellprobe des Bahnhofsgebäudes mit der angebauten Bar.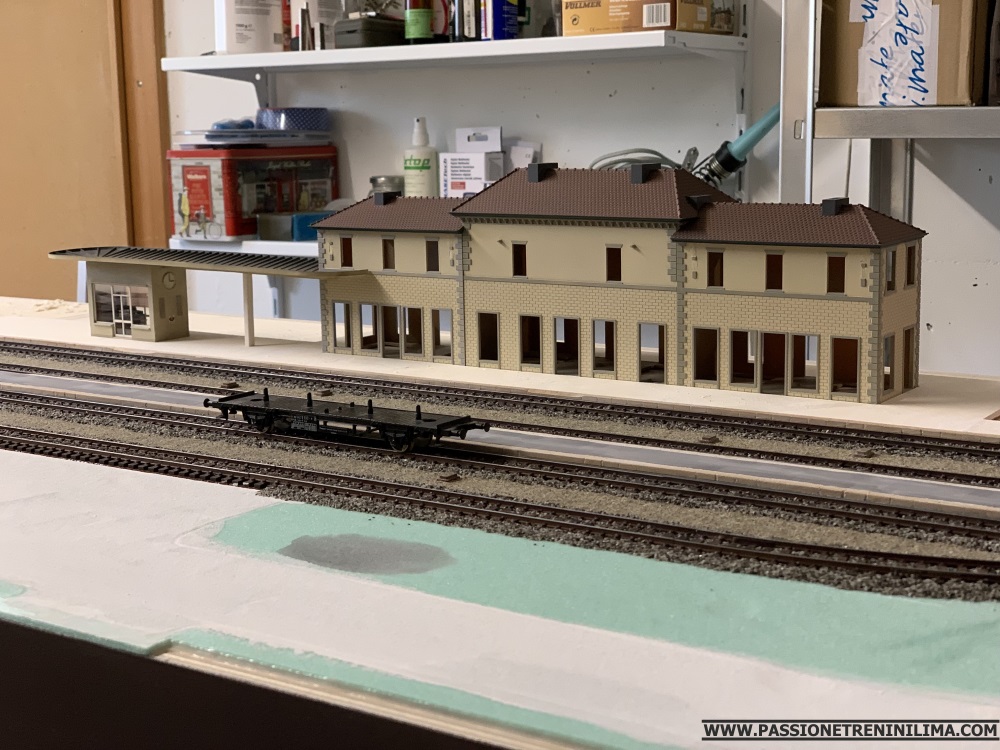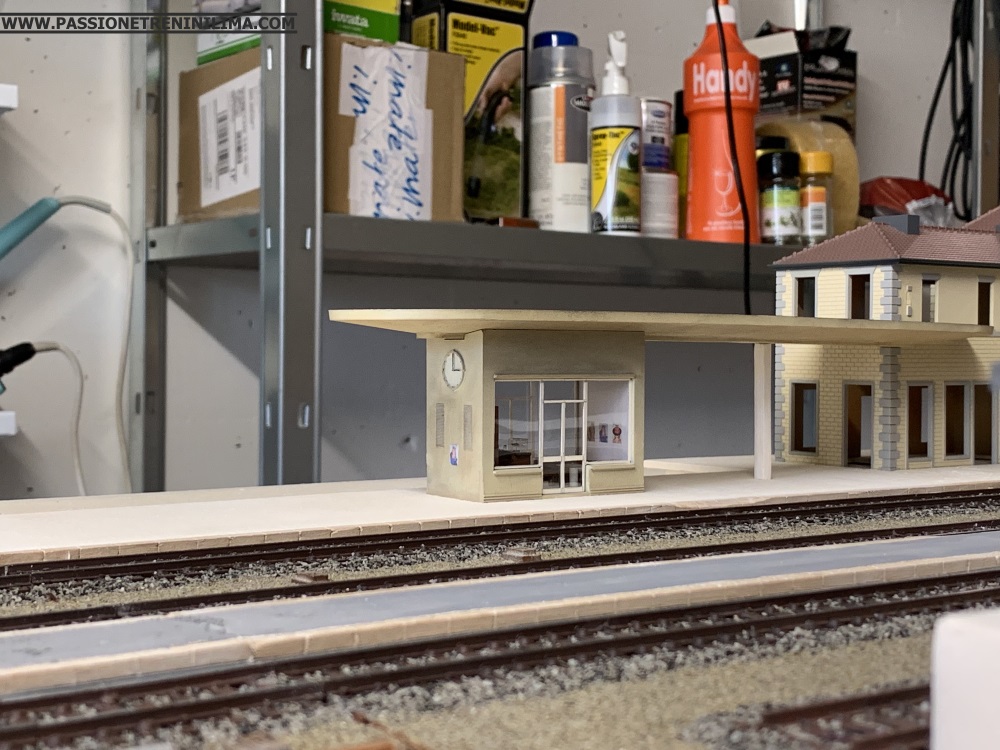 Status 13.10.2019: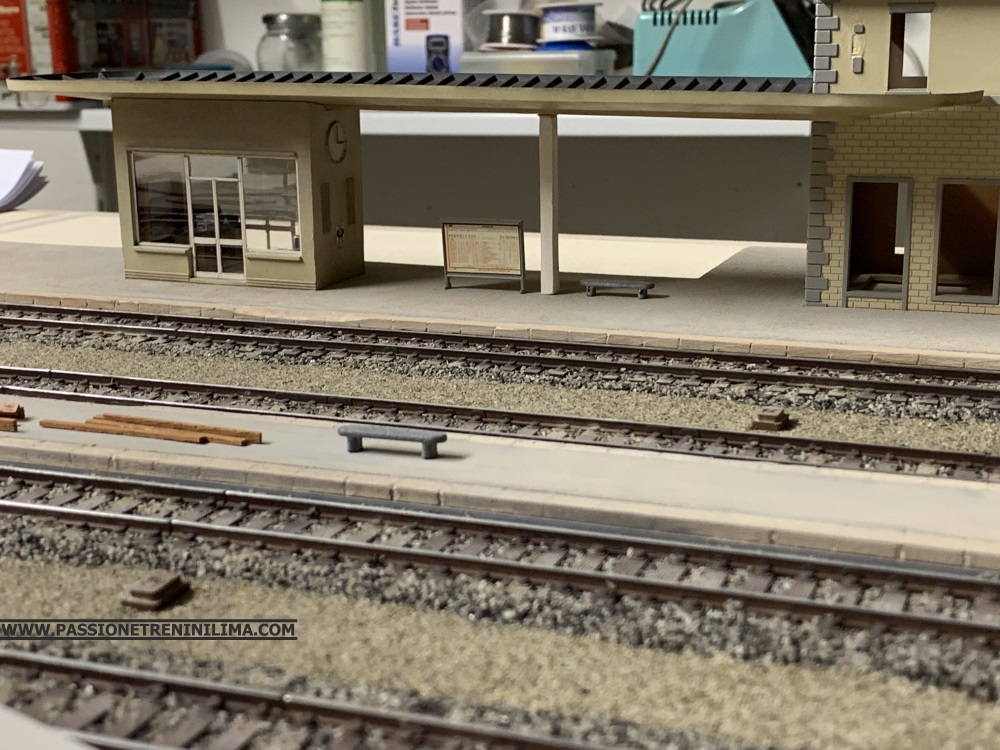 The platforms got their new colour and were already painted with powder paint.

Die Bahnsteige haben Ihre neue Farbe bekommen und wurden schon mit Pulverfarbe geschminkt.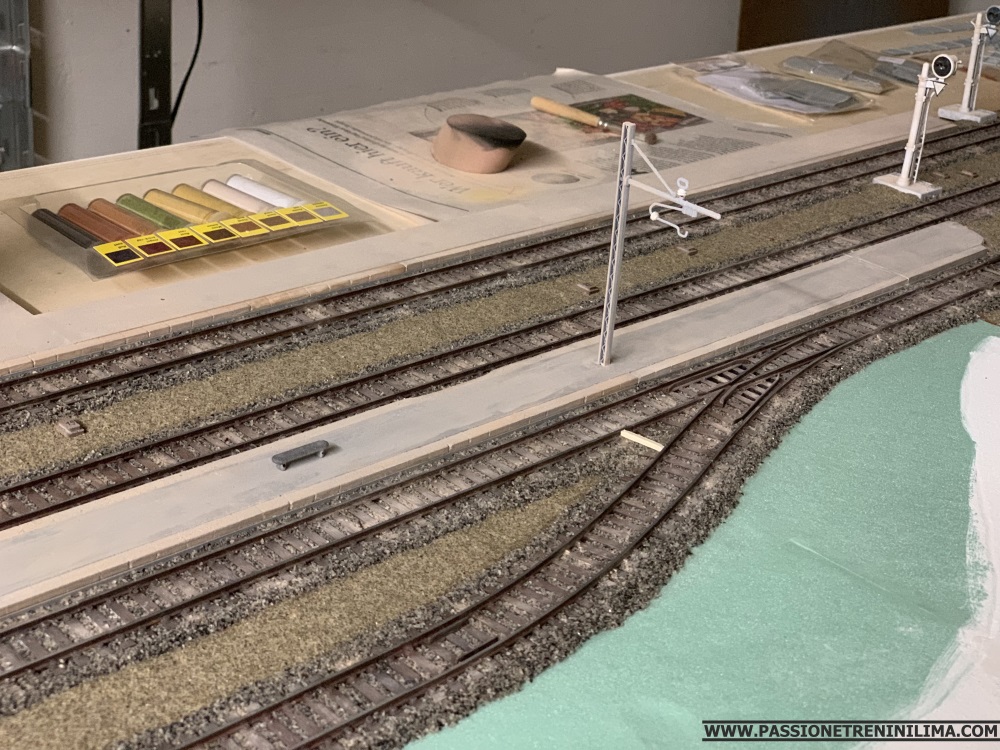 Because even small details are important, I once built some walls for the shed.

Da auch kleine Details wichtig sind, habe ich mal ein paar Mauern für den Schuppen gebaut.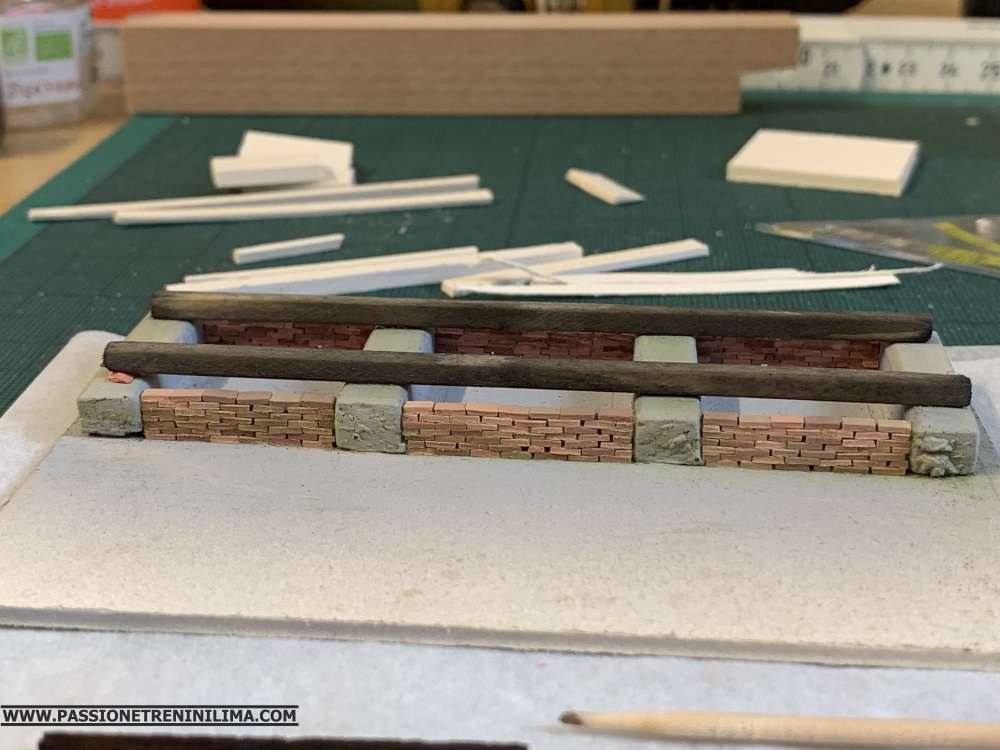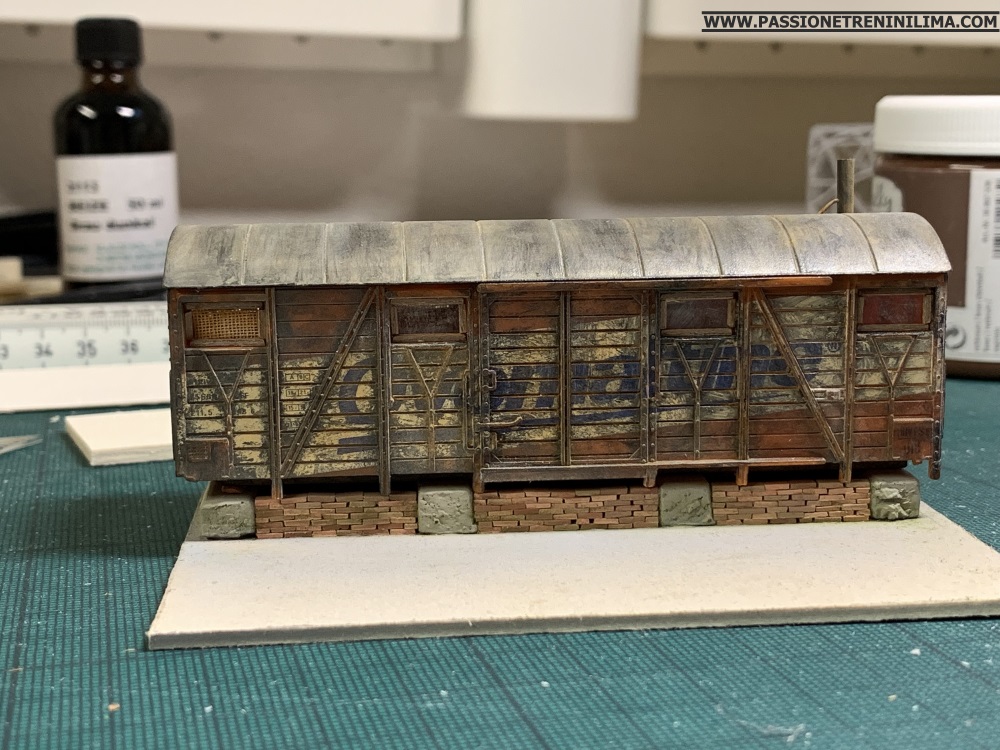 A good access should not be missing.

Dabei darf auch ein guter Zugang nicht fehlen.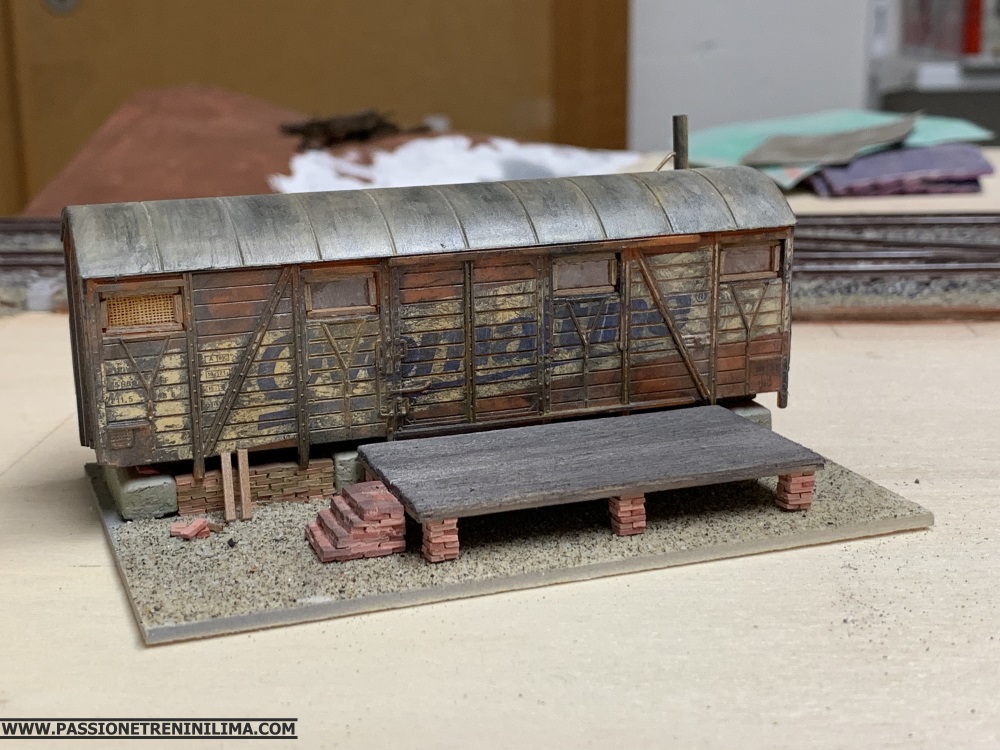 I wonder if the locomotive shed will have to be moved during a night and fog operation?

Ob da wohl noch bei einer Nacht- und Nebelaktion der Lokomotivschuppen versetzt werden muss?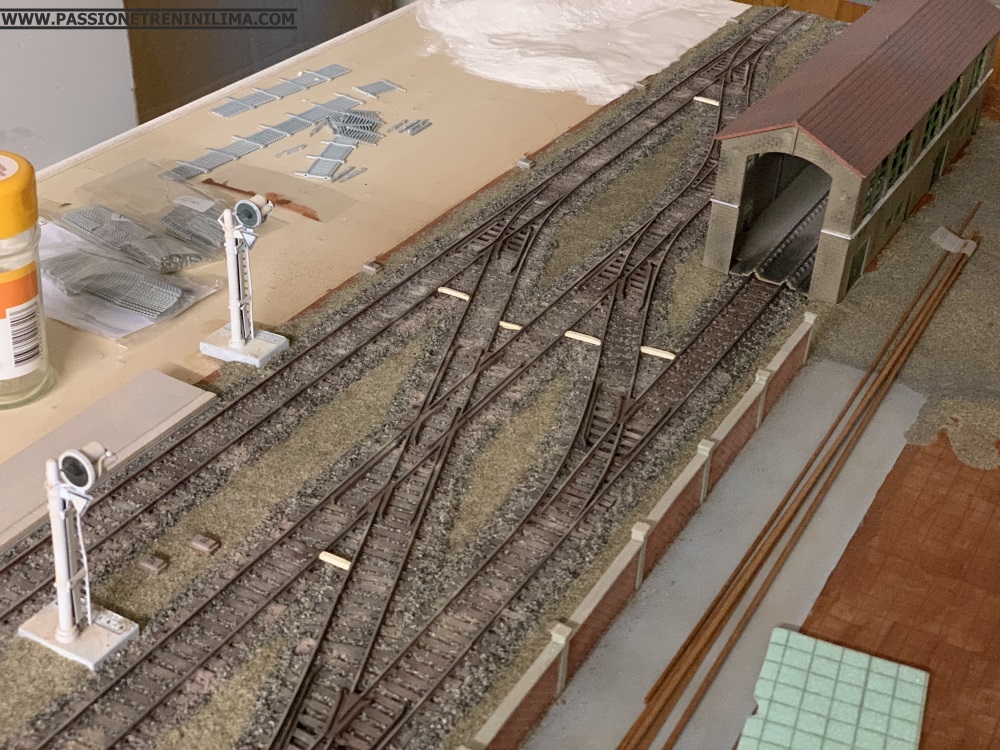 Status 16.10.2019:

You can see well the installed impact sound mats with a thickness of 2mm which are used as a base for for the green
areas and roads.

Man sieht gut die verlegten Trittschallmatten mit einer Dicke von 2mm die als Untergrund für die Grünflächen und Strassen
dienen.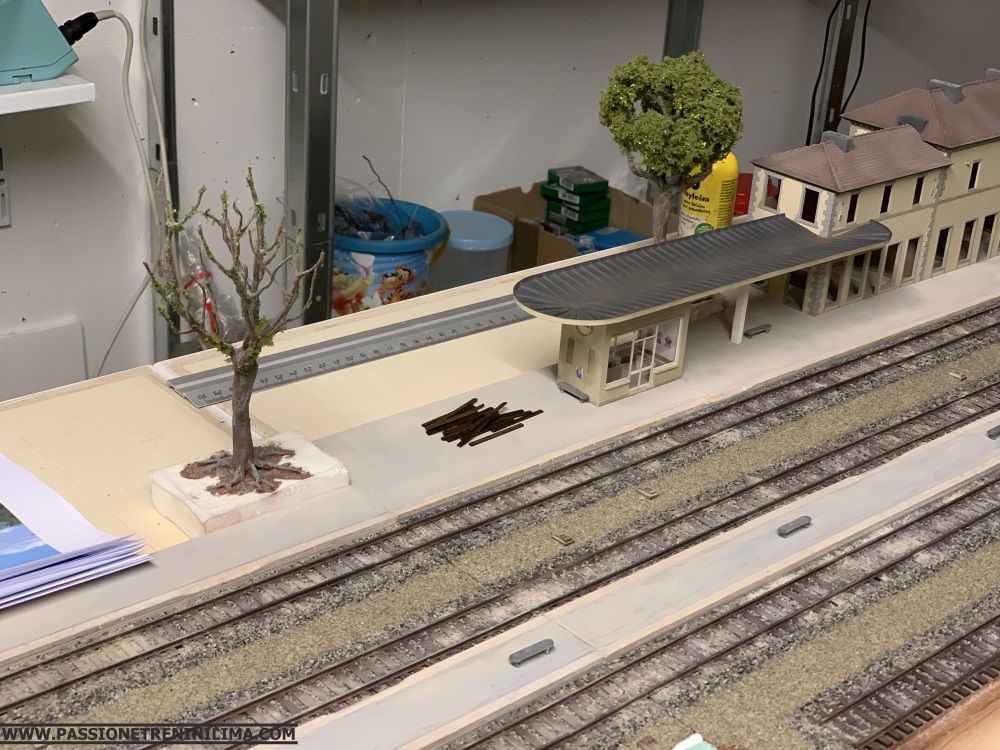 Tree adjustment test.

Baum Stellprobe.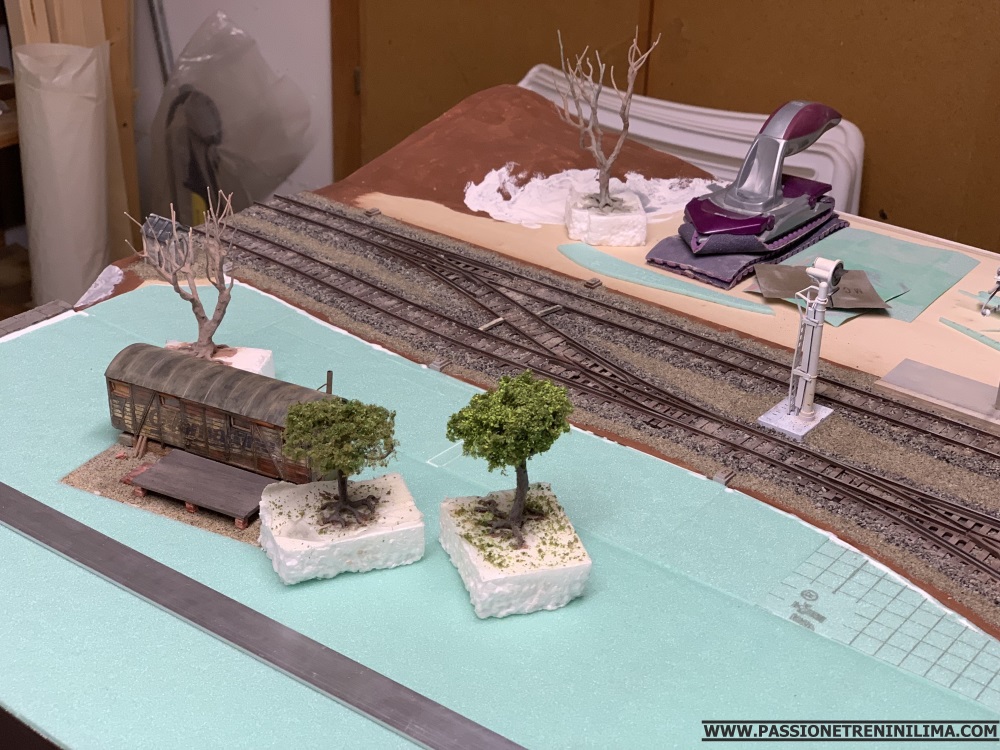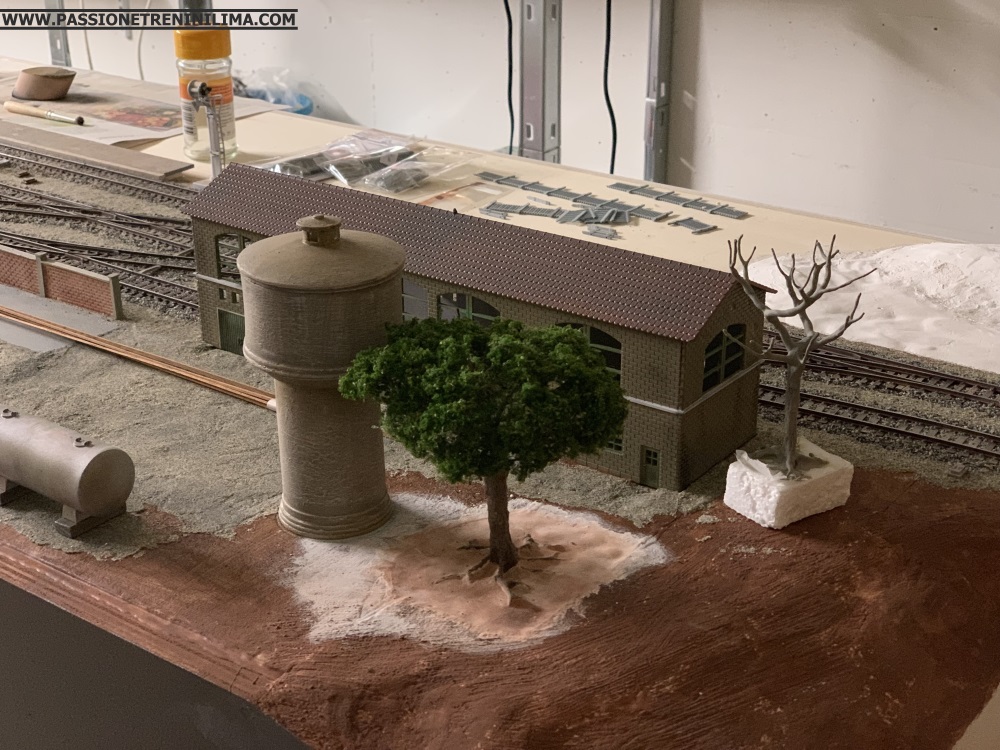 Christoph
#73
RE: Lima Nord Module - Tracks
von
tsokasn
31.01.2020 06:04
Fantastic paint job on the station!!!
Really transformed it...!!!
#74
RE: Suggestion: Let´s build a Forum Layout....
von
Tartaruga
01.02.2020 22:18
Thanks.
#75
RE: Suggestion: Let´s build a Forum Layout....
von
minesweeper
14.02.2020 06:22
Beautiful
Never saw LIMA accessories done like these.