International Forum for Lima Model Train Enthusiasts » Lima H0 » Track - Binari - Gleismaterial » Lima Nem 120
Seite 1 von 3
#1
Lima Nem 120
von
tsokasn
17.11.2017 17:19
Hello my friends!
Recently,I purchased from ebay a track combo with a transformer.
Although I spent a lot of time in the net to find some info about this combo,I could not find something...
It is from the Nem track series.
An oval with two 403820 straight tracks and twelve 403811 curves.
The transformer is 50 2053,the one with DC and AC terminals.
The serial number of the box cover(for which I have aome doubts about being the correct cover...) is 109780.
Anybody knows something about it?
Martin,I saw that there was a catalogue for Nem tracks back in 1990 from the forum.Have you got it?Any chance to upload it?
I astill have not tryed to use hoosters for uploading photos and since I am not that familiar with computing,I will paste the http from the forum that I have already uploaded them...

http://amnizia.org/viewtopic.php?f=17&t=107284&start=285

There is a presentation of Lima models.
Scroll down to se the photos of the Nems.
#2
RE: Lima Nem 120
von
tsokasn
20.11.2017 20:43
Oh,by the way,Lima had lend the Nem 120 series to Rivarossi,same boxes under Riva firm.
#3
RE: Lima Nem 120
von
Musseler
25.11.2017 17:30
Hello,

unfortunately your link only leads to the startpage. No photos...
#4
RE: Lima Nem 120
von
tsokasn
01.12.2017 05:17
Crap...
Any suggestions?
Maybe an email that I could send photos and someone could upload them to the forum?
#5
RE: Lima Nem 120
von
Musseler
10.12.2017 15:31
Here some NEM120 tracks from my small collection.
Still missing double slip switch, the curved turns, flex track and the underground operator for switches.


#6
RE: Lima Nem 120
von
tsokasn
11.12.2017 00:31
Holy crap Batman!!!





Added some Pictures from Nick. Admin
#7
RE: Lima Nem 120
von
Musseler
12.12.2017 19:31
I've never seen a track pack like this. Amazing! Where did it come from?
#8
RE: Lima Nem 120
von
tsokasn
12.12.2017 22:46
Hello Mus!
I found it on ebay.fr......
I could not believe what I was seeing and espesially at the price it was being sold...(30€ if I remember well...)
And while I was after that spesific transfo,after I lost a chance from ebay.it where a pendolino starter set was being sold with this transfo (!!!),I did not think a lot about it...

I too never saw a set like this on Lima catalogues.
There could be a chance that the box cover may not be the original as it does not cover the box in full depth.But the rest of the dimensions are correct.
Martin has a picture of a 1990 catalogue only for Nem tracks.I read on alte modelbahn (I think it was Martin's post) that this spesific catalogue is a 16 page leaflet?
Martin,can you verify it?
And if you own it,could you drop some pictures of it?
#9
RE: Lima Nem 120
von
Musseler
12.11.2018 17:52
Hello again,

in the meanwhile I had several opportunities to collect further tracks. Unfortunately with other item numbers and Rivarossi branded, but the tracks are the same.

Curved tracks:




Double slip:




Very rare to find for me: The point motor, which looks like a Roco




Also very hard to find: Compensation tracks for points: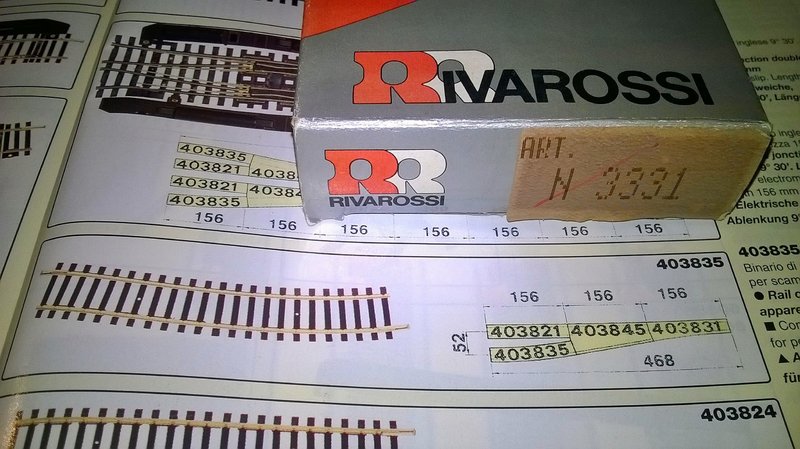 If you have anything left or know chances to buy, please leave a notice here or send me a PN.
I´m still looking for:
COMPENSATION tracks for points,
FLEXTRACKS an STRAIGHT TRACKS
CURVED POINTS
POINT MOTORS

Thanks a lot.

EDIT: Here is a list to compare the item numbers from the H0-Forum. It comes from the member hjs. I copied it there.

Lima - Rivarossi - Typ
403821 - N 3141 - Gerade, 156 mm
403820 - N 3140 - Gerade, 312 mm
403824 - N 3142 - Gerade, 162,5 mm
403826 - N.N. - Ausgleichsgerade 120-156mm
403827 - N 3143 - Flexgleis, 936 mm
403811 - N 3210 - Kurve 30°, r=600 mm
403810 - N 3330 - Kurve 30°, r=652 mm
403835 - N 3331 - Kurve 9° 40', r=941 mm
403830/403830E - N 3340/N 3341 - Weiche rechts, 156 mm
403831/403831E - N 3342/N 3343 - Weiche links, 156 mm
403832/403832E - N 3344/N 3345 - Bogenweichenpaar (L+R), 60° - R1/R2
403840/403840E - N 3346/N 3347 - DKW, 156 mm
403842 - N 3348 - doppelte Gleisverbindung IXI
403843 - N 3349 - rechte Gleisverbindung I/I
403844 - N 3350 - linke Gleisverbindung I\I
403845 - N 3351 - Herzstück
403850/403850E - N 3352/N 3353 - Weiche rechts, 312 mm
403851/403851E - N 3354/N 3355 - Weiche links, 312 mm
403841 - N 3356 - Kreuzung, 156 mm
403860 - N 4610 - Stromanschluß
403861 - N 4611 - Prellbock
600063 - N 4612 - Gleisplanungsschablone
600867 - N 4613 - Unterflurantrieb
403827K - N 4614 - Bloccaflex Montagehilfe für Flexgleise
N.N. - N 4615 - Isolierverbinder
600880 - N 4616 - Weichenantrieb elektrisch, rechts
600881 - N 4617 - Weichenantrieb elektrisch, links
600883 - N 4618 - Schienenverbinder
N.N. - N 4619 - Weichenantrieb manuell, rechts
N.N. - N 4620 - Weichenantrieb manuell, links
600888 - N.N. - Unterflurumrüstsatz rechts
600889 - N.N. - Unterflurumrüstsatz links
#10
RE: Lima Nem 120
von
tsokasn
13.11.2018 08:09
So,you have been taking those opportunities!!!
Just kidding.
How are you my friend!!!
I've been also collecting Riva Nems.
I am making a layout with Nems only...
For some parts of the layout,using Piko r4-3-2-1 curves and code 100 straights is something that cannot be avoided.
I've benn trying to find Nem r2 or Riva 3210 (hate you...) but without any lack...
BUT...
Some months ago,I found a auction in the US with a lot of Lima Nems...which of course I bought...which contained a box of point compensator tracks...which I used and a bit vandalized them to create a r2 Nem...hate me?
I am open to exchanges of course!!!
Curved points is something I have never ever saw anywhere...

(Has something changed with photo uploading?)
#11
RE: Lima Nem 120
von
Musseler
13.11.2018 11:21
Hi,

Yes, there is a change in uploading fotos with picr for some reasons of misuse. You have to create an account there, but it is without costs and advertising.
In the code there has to appear the "https" instead of only "http".

Vandalising compensator tracks is going to be sentenced to death, ah....using dot contacts!
Don´t do it any more!


Please show us some pics of your layout.
#12
RE: Lima Nem 120
von
tsokasn
13.11.2018 11:47
Sure thing,I will send Martin the photo because I am not that familiar with internet...
It's a beautiful vandalising though...
#13
RE: Lima Nem 120
von
Musseler
21.11.2018 22:50
Hi tsokasn,

what in your stock do you offer for exchange and what kind of tracks do you look for?
#14
RE: Lima Nem 120
von
tsokasn
22.11.2018 13:07
Hello Muss!
I was looking for 652 curves but I made them with the compenator curves...a bit vandalized to offer them for exchange.
Sorry if I upseted you.
#15
RE: Lima Nem 120
von
Musseler
22.11.2018 18:49